Tough talkin from top TC
15th February 1996
Page 26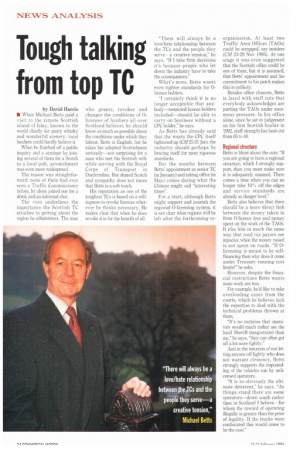 Page 26, 15th February 1996 —
Tough talkin from top TC
Close
Keywords :
by David Harris • When Michael Betts paid a visit to the remote Scottish island of Islay, known to the world chiefly for peaty whisky and wonderful scenery, local hauliers could hardly believe it.
When he finished off a public inquiry and a seminar by joining several of them for a Scotch in a local pub, astonishment was even more widespread.
The reason was straightforward: none of them had ever seen a Traffic Commissioner before, let alone joined one for a drink and an informal chat.
The visit underlines the importance the Scottish TC attaches to getting about the region he administers. The man
who grants, revokes and changes the conditions of 0licences of hauliers all over Scotland believes he should know as much as possible about the conditions under which they labour. Betts is English, but he takes his adopted Scottishness seriously—not surprising for a man who met his Scottish wife while serving with the Royal Corps of Transport in Dunfermline. But shared Scotch and sympathy does not mean that 13etts is a soft touch.
His reputation as one of the toughest TCs is based on a willingness to revoke licences wherever he thinks necessary. He makes clear that when he does revoke it is for the benefit of all. "There will always be a love/hate relationship between the TCs and the people they serve--a creative tension," he says. "If I take firm decisions it's because people who let down the industry have to take the consequences."
What's more, Betts wants even tighter standards for 0licence holders.
"I certainly think it is no longer acceptable that anybody—restricted licence holders included—should be able to carry on business without a CPC holder," he says.
As Betts has already said that the wants the CPC itself tightened up (CM 25-31 Jan), the industry should perhaps be bracing itself for more rigorous standards.
But the months between Betts' appointment as senior TC (in January) and taking office (in May) comes during what the Chinese might call "interesting times".
For a start, although Betts might support and nourish the regional 0-licensing system, it is not clear what regions will be left after the forthcoming re
organisation. At least two Traffic Area Offices (TA0s) could be scrapped, say insiders (CM 23-29 Nov 1995). At one stage it was even suggested that the Scottish office could be one of them, but it is assumed, that Betts' appointment and his commitment to his patch makes this is unlikely.
Besides office closures, Betts is faced with staff cuts that everybody acknowledges are putting the TAOs under enormous pressure. In his office alone, since he sat in judgement on his first Scottish haulier in 1992, staff strength has been cut from 65 to 40.
Betts is blunt about the cuts: "If you are going to have a regional structure, which I strongly support, then you must make sure it is adequately manned. There comes a time when you can no longer take 10% off the edges and service standards are already at danger level."
Betts also believes that there should be a more direct link between the money taken in from 0-licence fees and money spent on the work of the TA0s. It irks him in much the same way that road tax payers see injustice when the money raised is not spent on roads. "If 0licensing is meant to be selffinancing then why does it come under Treasury running cost limits?" he asks.
However, despite the financial restrictions Betts wants more work not less.
For example, he'd like to take overloading cases from the courts, which he believes lack the expertise to deal with the technical problems thrown at them.
"It's no surprise that operators would much rather see the local Sheriff (magistrate) than me," he says, "they can often get off a lot more lightly."
And in the interests of not letting anyone off lightly who does not warrant clemency, Betts strongly supports the impounding of the vehicles run by unlicensed operators.
"It is so obviously the ultimate deterrent," he says. "As things stand there are sonic operators—down south rather than in Scotland I believe--for whom the reward of operating illegally is greater than the price of legality. lithe trucks were confiscated this would cease to be the case."