Safety fears take ten off 0-licence
15th February 1996
Page 25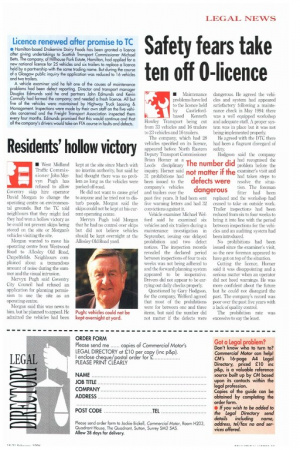 Page 25, 15th February 1996 —
Safety fears take ten off 0-licence
Close
Keywords :
• Maintenance problems have led to the licence held
by Castlefordbased Kenneth Howley Transport being cut from 33 vehicles and 16 trailers to 23 vehicles and 16 trailers.
Vehicle examiner Michael We!ford said he examined six vehicles and six trailers during a maintenance investigation in September, issuing one delayed prohibition and two defect notices. The inspection records revealed the declared period between inspections of four to six weeks was not being adhered to and the forward planning system appeared to be inoperative. Drivers did not appear to be carrying out daily checks properly.
Questioned by Gary Hodgson, for the company, Welford agreed that most of the prohibitions were for between one and three items, but said the number did not matter if the defects were dangerous. He agreed the vehicles and system had appeared satisfactory following a maintenance check in May 1994: there was a well equipped workshop and adequate staff. A proper system was in place but it was not being implemented properly.
He agreed with the DTC there had been a flagrant disregard of safety.
Hodgson Hodgson
said the company had recognised the problem before the examiner's visit and had taken steps to resolve the situation. The foreman fitter had been replaced and the workshop had ceased to take on outside work. Trailer inspections had been reduced from six to four weeks to bring it into line with the period between inspections for the vehicles and an auditing system had been introduced.
No prohibitions had been issued since the examiner's visit, so the new foreman appeared to have got on top of the situation.
Cutting the licence, Horner said it was disappointing and a serious matter when an operator did not heed warnings. He was more confident about the future but he could not disregard the past. The company's record was poor over the past five years with a lack of quality control.
The prohibition rate was excessive to say the least.