Residents' hollow victory
15th February 1996
Page 25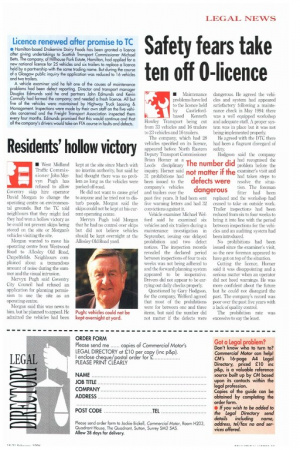 Page 25, 15th February 1996 —
Residents' hollow victory
Close
• West Midland Traffic Commissioner John Mervyn Pugh has refused to allow Coventry skip hire operator David Morgan to change the operating centre on environmental grounds. But the TC told neighbours that they might feel they had won a hollow victory as he could not prevent skips being stored on the site or Morgan's vehicles visiting the site.
Morgan wanted to move his operating centre from Westwood Road to Allesley Old Road, Chapelfields. Neighbours complained about a tremendous amount of noise during the summer and the visual intrusion.
Mervyn Pugh said Coventry City Council had refused an application for planning permission to use the site as an operating centre.
Morgan said this was news to him, but he planned to appeal. He admitted the vehicles had been kept at the site since March with no interim authority, but said he had thought there was no problem as long as the vehicles were parked off-road.
He did not want to cause grief to anyone and he tried not to disturb people. Morgan said the skips could not be kept at his current operating centre.
Mervyn Pugh told Morgan that he had no control over skips but did not believe vehicles should be kept overnight at the Allesley Old Road yard.