Revving up at the RAI
15th February 1996
Page 18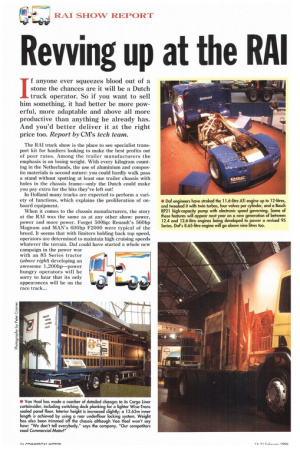 Page 19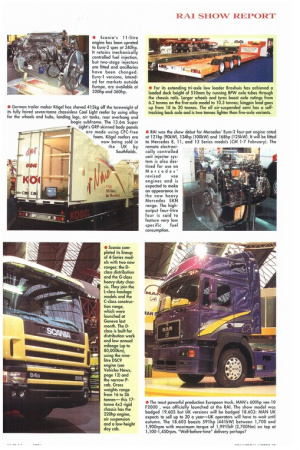 Page 18, 15th February 1996 —
Revving up at the RAI
Close
If anyone ever squeezes blood out of a stone the chances are it will be a Dutch truck operator. So if you want to sell him something, it had better be more powerful, more adaptable and above all more productive than anything he already has. And you'd better deliver it at the right price too. Report by CM's tech team.
The RAI truck show is the place to see specialist transport kit for hauliers looking to make the hest profits out of poor rates. Among the trailer manufacturers the emphasis is on losing weight. With every kilogram counting in the Netherlands, the use of aluminium and composite materials is second nature: you could hardly walk pass a stand without spotting at least one trailer chassis with holes in the chassis frame—only the Dutch could make you pay extra for the bits they've left out!
In Holland many trucks are expected to perform a variety of functions, which explains the proliferation of onboard equipment.
When it comes to the chassis manufacturers, the story at the RAI was the same as at any other show: power, power and more power. Forget 500hp: Renault's 560hp Magnum and MAN's 600hp F2000 were typical of the breed. It seems that with limiters holding back top speed, operators are determined to maintain high cruising speeds whatever the terrain. Daf could have started a whole new campaign in the power war with an 85 Series tractor (above right) developing an awesome 1,2004—power hungry operators will be sorry to hear that its only appearances will be on the race track...
• Van Hool has made a number of detailed changes to its Cargo Liner curtainsider, including switching deck planking for a lighter Wisa-Trans sealed panel floor. Interior height is increased slightly; a 13.62m inner length is achieved by using a rear underfloor locking system. Weight has also been trimmed off the chassis although Van Hool won't say how: "We don't tell everybody," says the company. "Our competitors read Commercial Motor!" • German trailer maker Kiigel has shaved 415kg off the tareweight of its fully faired seven-tonne chassisless Coo/ Light reefer by using alloy for the wheels and hubs, landing legs, air tanks, rear overhang and bogie subframe. The 13.6m Super Light's GRP-skinned body panels are made using CFC-free foam. Kogel reefers are now being sold in the UK by Southfields.
• RAI was the show debut for Mercedes' Euro-2 four-pot engine rated at 121hp (90kW), 134hp (100kW) and 168hp (125kW). It will be fitted to Mercedes 8, 11, and 13 Series models (CM 1-7 February). The remote electronically controlled unit injector system is also destined for use on Mercedes'
revised vee engines and is expected to make an appearance in the new heavy Mercedes SKN range. The highoutput four-litre four is said to feature very low specific fuel consumption.
it The most powerful production European truck, MAN's 600hp vee-10 F2000 , was officially launched at the RAI. The show model was bodged 19.603 but UK versions will be bodged 18.603: MAN UK expects to sell up to 20 a year—UK operators will have to wait until autumn. The 18.603 boasts 591hp (441 kW) between 1,700 and 1,900rpm with maximum torque of 1,9911bft (2,700Nm) on tap at 1,100-1,450rpm. "Well-before-time" delivery perhaps?