Right-hooker for 55
15th February 1996
Page 15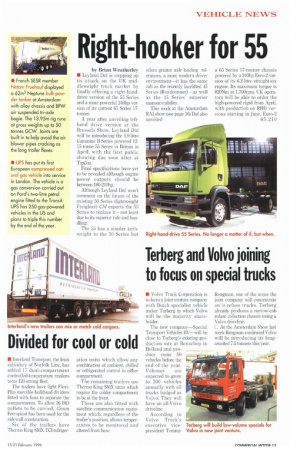 Page 15, 15th February 1996 —
Right-hooker for 55
Close
by Brian Weatherley • Leyland Daf is stepping up its attack on the 11K middleweight truck market by finally offering a right-handdrive version of the 55 Series and a more powerful 240hp version of its current 65 Series 17tonner.
A year after unveiling lefthand drive version at the Brussels Show, Leyland Daf will be introducing the 5.9-litre Cummins B-Series powered 1215 tonne 55 Series in Britain in April, with the first public showing due soon after at TipCon.
Final specifications have yet to be revealed although engine power outputs should be between 180-210hp.
Although Leyland Daf won't comment on the future of the existing 50 Series (lightweight Freighter) CM expects the 55 Series to replace it—not least due to its superior ride and handling.
The 55 has a similar kerbweight to the 50 Series but offers greater axle loading tolerances, a more modern driver environment—it has the same cab as the recently facelifted 45 Series (Roadrunner)—as well as the 15 Series' superior manouevrability.
This week at the Amsterdam RAI show (see page 16) Daf also unveiled a 65 Series 17-tonner chassis powered by a 240hp Euro-2 version of its 6.2-litre straight-six engine. Its maximum torque is 820Nm at 1,700rpm. UK operators will be able to order the high-powered rigid from April, with production on RH!) versions starting in June. Euro-2