New Fork Truck with 10-ft. Lift
15th February 1957
Page 75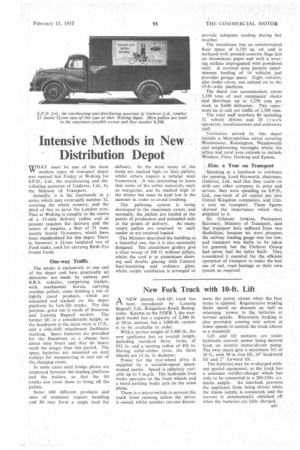 Page 75, 15th February 1957 —
New Fork Truck with 10-ft. Lift
Close
ANEW electric fork-lift truck has been introduced by Lansing Bagnall, Ltd., Kingsclere Road, Basingstoke. Known as the FOER 3, the standard model has a capacity of 2,300 lb. at 20-in, centres, but a 3,000-1b. version is to be available to order.
With a service weight of 5,300 lb., the new appliance has an overall length, including standard 36-in, forks, of 951 in. and a turning radius of 491 in. Having solid-rubber tyres, the three Wheels, are 12 in. in diameter,
Power for the rear-wheel drive is supplied by a variable-Speed shuntwound motor. Speed is infinitely variable up to 5 m.p.h. The hydraulic foot brake operates on the front wheels and a hand parking brake acts on the same shoes.
There is a micro-switch to prevent the truck from running unless the driver is seated, whilst another cut-out discon
fleets the power circuit when the foot brake is applied. Regenerative braking limits speed on descents as well as returning power to the batteries at normal speeds. Rheostatic braking is also provided, coming into action at lower speeds to control the truck almost to a standstill..
Lift and tilt motions are under hydraulic control, power being derived from an electric motor-driven pump. The twin masts give a maximum lift of 10 ft., with 58 in. free lift, 10° backward tilt and 2° forward tilt.
The batteries may be re-charged without special equipment, as the truck has a selenium rectifier-charger which has only to be connected to a 200-250v. ac. mains supply. An interlock prevents the appliance from being driven while the mains supply is connected, and the current is automatically switched off when the batteries are fully charged.