Intensive Methods in New ' Distribution Depot
15th February 1957
Page 75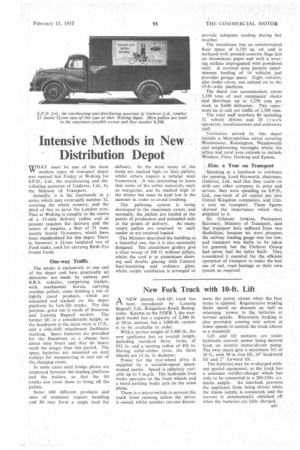 Page 75, 15th February 1957 —
Intensive Methods in New ' Distribution Depot
Close
WHAT must be one of the most modern types of transport depot was opened last Friday at Woking for S.P.D., Ltd., the warehousing and distributing associate of Unilever, Ltd., by the Minister of Transport.
Actually, it is the fourteenth in a series which may eventually number 32, covering the whole country, and the third of five to serve the London area. That at Woking is roughly in the centre of a 35-mile delivery radius and at present requires for delivery and the return of empties, a fleet of 25 vans, mostly Austin 5ftonners, which have been standardized for this depot. There is, however; a 2-1-ton insulated van of Ford make, used for carrying Birds Eye frozen foods.
One-way Traffic The intake is exclusively at one end of the depot and here practically all deliveries are made by railway and B.R.S. vehicles, comprising trailers, with mechanical horses, carrying Atooden pallets, some holding a ton of lightly cased products, which are unloaded and stacked on the depot platform by fork-lift trucks. For this purpose, great use is made of Stacatruc and Lansing Bagnall models. The former lift to a considerable height, as the headroom in the main store is 17 ft., and a side-shift attachment facilitates stacking. Spare batteries are provided for the Stacatrucs as a charge lasts about nine hours and they do heavy work for longer than this period. The spare batteries are mounted on steel trolleys for manceuvring in and out of the charging room.
In some cases steel bridge plates are 'employed between the loading platform and the trailers, so that the lift trucks can cross these to bring off the pallets.
Some 600 different products and sizes of container require handling and 80 may form a single load for
delivery. In the store many of Me items are stacked high on their pallets,whilst others require a, tubular, steel. framework. It was interesting to learn, that some of the softer materials, such as margarine, can be stacked high in the winter but must be kept low in the summer in order to avoid crushing.
The palleting system is being developed to the maximum extent, and normally, the pallets are loaded at the points of production and unloaded only
at the points of delivery. As many empty pallets are returned to each sender as are received loaded.
The Minister described the building as a beautiful one, but it is also unusually designed. The aluminium girders give a clear sweep of 206 ft. without pillars, whilst the roof is in aluminium sheeting and double glazing with Calorex heat-insulating and ordinary glass, whilst ample ventilation is arranged to provide adequate cooling during hot weather.
The warehouse has an uninterrupted floor space of 6,350 sq. yd. and is surfaced with pressed concrete flags laid on bituminous paper and with a wearing surface impregnated with powdered steel. A covered area permits simultaneous loading of 14 vehicles and provides garage space. Eight vehicles, also under cOver, can unload on to the 15-ft.-wide platform.
The depot can accommodate about 5,350 tons of user companies' stocks 'and distribute up to 1,250 tons pCI Week in 8,600 deliveries. This' represents an in and out traffic of 2,500 tons.
The total staff numbers 80 including 32 vehicle drivers and 20 truck operators, warehousemen and cold-store staff.
Territories served by this depot include a Metropolitan sector covering Westminster, Kensington, Wandsworth and neighbouring boroughs whilst the urban and rural area extends to include Windsor, Fleet, Dorking and Epsom.
• Um. a Year on Transport
Speaking at a luncheon to celebrate the opening, Lord Heyworth, chairman, Unilever, Ltd., said that they could vie with any other company in price and service, they were spending on S.P.D., Ltd., one-tenth of all capital put into United Kingdom companies, and Lim. a year on transport. These figures showed the importance which they attached to it.
Sir Gilmour. Jenkins, Permanent Secretary, Ministry of Transport, said that transport here suffered from two disabilities, because we were pioneers the railway loading gauge was too low, and transport was liable to be taken for granted, but the Unilever Group had never had the latter fault. They, considered it essential for the efficient operation of transport to make the best use of rail, road haulage or their own system as required.