SE RVIC
15th February 1957
Page 66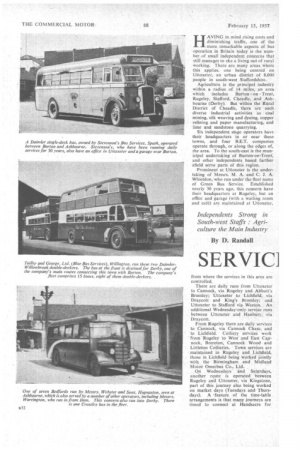 Page 67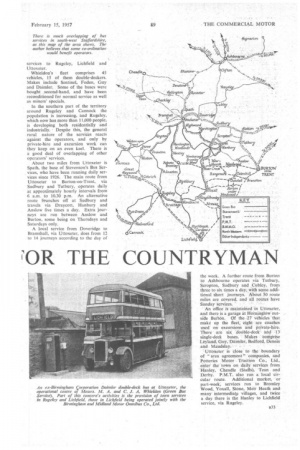 Page 68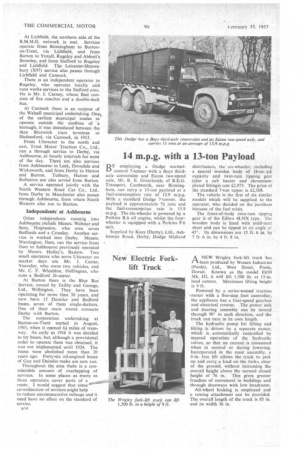 Page 66, 15th February 1957 —
SE RVIC
Close
Keywords :
Cannock Chase
,
East Staffordshire
,
Market Towns In England
,
Uttoxeter
,
Rugeley
,
Lichfield
,
Stafford
,
Cannock Wood
,
Cannock
,
Burton Upon Trent
,
Staffordshire Fire And Rescue Service
,
Chaselinx
OTZ THE COUNTRYMAN
By D. Randall
HAVING in mind rising costs and diminishing traffic, one of the more remarkable aspects of bus operation in Britain today is the number of small independent concerns that still manages to eke a living out of rural working. There are many areas where this applies, one being centred on Uttoxeter, an urban district of 8,000 people in south-west Staffordshire.
Agriculture is the principal industry within a radius of 14 miles, an area which includes Burton on Trent, Rugeley, Stafford, Cheadle, and Ashbourne (Derby). But within the Rural District of Cheadle, there are such diverse industrial activities as coal mining, silk weaving and dyeing, copper refining, and paper manufacturing, and 'lime and sandstone quarrying.
Six independent stage operators have their headquarters in or near these towns, and four B.E.T. companies operate through, or along the edges of, the area. To the south-east is the municipal undertaking of Burton-on-Trent, and other independents based farther afield serve parts of this region.
Prominent at Uttoxeter is the undertaking of Messrs. M. A. and C. J. A. Whieldon,' who run under the fleet name of Green Bus Service. Established nearly 30 years ago, this concern have their headquarters at Rugeley, hut an office and garage (with a waiting room and café) are maintained at Uttoxeter,
from where the services in this area are controlled.
There are daily runs from Uttoxeter to Cannock, via Rugeley and Abbott's Bromley; 'Uttoxeter to Lichfield, via Draycott and King's Bromley; and Uttoxeter to Stafford via Weston. An additional Wednesday-only service runs between Uttoxeter and Hanbury, via Draycott.
From Rugeley there are daily services to Cannock, via Cannock Chase, and to Lichfield. Colliery services work from Rugeley to West and East Cannock, Brereton Cannock Wood and Littleton Collieries. Town services are maintained in Rugeley and Lichfield, those in Lichfield being worked jointly with the Birmingham and Midland Motor Omnibus Co., Ltd..
On WednesdaysSaturdays, another route is o'perated between Rugeley and Uttoxeter, via Kingstone, part of this journey also being worked on market days (Tuesdays and Thursdays). A -feature of the time-table arrangements is that many journeys are timed to connect at Handsacre for
services to Rugeley, Lichfield and Uttoxeter.
Whieldon's fleet comprises 45 vehicles, 15 of them double-deckers. Makes include Sentinel, Foden, Guy and Daimler. Some of the buses were bought second-hand, and have been reconditioned for normal service as well as miners' specials.
In the southern part of the territory around Rugeley and Cannock the population is increasing, and Rugeley, which now has more than 11,000 people, is developing both residentially and industrially. • Despite this, the general rural nature of the services reacts against the operators, and only by private-hire and excursion work can they keep on an even keel. There is a good deal of overlapping of other operators' services.
About two miles from Uttoxeter is Spath, the base of Stevenson's Bus Services, who have been running daily services since 1926. The main route from Uttoxeter to Burton-on-Trent, via Sudbury and Tutbury, operates daily at approximately hourly intervals from 6 a.m. to 10.30 p.m. An alternative route branches off at Sadbury and travels via Draycott, Hanbury and Anslow five times a day. Extra jour• neys are run between Anslow and Burton, some being on Thursdays and Saturdays only.
A local service from Doveridge to Bramshall, via Uttoxeter, does from 12 to 14 journeys according to the day of the week. A further route from Burton to Ashbourne operates via To tbury, Scropton, Sudbury and Cubley, from three to six Oates a day; with some additional short journeys. About 50 route miles are covered, and all routes have Sunday services. • •
An office is maintained in Uttoxeter, and there is a garage at FforningloW outside Burton. Of the -27' vehicles "that. make up the fleet, eight are Coaches used on excursions and private-hire: There are SiX. 'double-deck ° and :1•3' single-deck buses. Makescomprise Leyland; Minder; Bedford., Dennis andMandslay, Uttoxeter is Close. to • the boundary of "area agreement." companies, and Potteries .Motor Traction Co., Ltd., enter' the town on daily services from Hanley, Cheadle (Staffs), Tean and Derby. P.M.T. also run a local circular route. Additional market, or part-week; services run to Bromley Woad, Yoxall, Stone, Meir Heath and many intermediate villages, and twice a day there is the Hanley to Lichfield service, via Rugeley.
At Lichfield, the northern side of the B.M.M.O. network is met. Services operate from Birmingham to Burtonon-Trent, via Lichfield, and from Burton to Yoxall, Rugeley and Abbott's Bromley, and from Stafford to Rugeley and Lichfield. The Leicester-Shrewsbury (X97) service also passes through Lichfield and Cannock.
.There is an independent operator in Rugeley, who operates locally and runs works services to the Stafford area. He is Mr. J. Carney, whose fleet consists of five coaches and a double-deck bus.
At Cannock there is an outpost of the Walsall municipal undertaking. One of the earliest municipal routes to operate outside the confines of a borough, it was introduced between the then . Bloxwich tram terminus to Hednesford, via Cannock, in 1913.
From Uttoxeter to the north and east, Trent Motor Traction Co., Ltd., run a through service to Derby, via Ashbourne, at hourly intervals for most of the day. There are also services from Ashbourne to Leek, Dovedale and Wirksworth, and from Derby to Hatton and Burton. Tutbury, Hatton and RoHeston are also sewed from Burton.
A service operated jointly with the North Western Road Car Co., Ltd.. from Derby to Manchester also passes through Ashbourne, from where North Western also run to Buxton.
Independents at Ashbourne Other independents running into Ashbourne include Messrs. Webster and Sons, Hognaston, who own seven Bedfords and a Crossley. Another service is worked into Derby. Messrs. Warrington, Ilam, run the service from Ilam to Ashbourne previously operated by Messrs. Hulley's, Baslow. Two small operators who serve Uttoxeter on market days are Mr. J. Carter, Yeaveley, who owns two vehicles, and Mr. C. F. Whieldon, Hollington, who runs a Bedford 26-seater.
At Burton there is the Blue Bus Service, owned by Tailby and George, Ltd., Willington. They have been operating for more than 30 years, and now have 15 Daimler and Bedford buses, seven of them single-deckers. One of their main routes connects Derby with Burton.
The corporation undertaking at Burton-on-Trent started in August, .1903, when it opened 6+ miles of tramway. As early as 1916 it was decided Lo try buses, but, although a provisional order to operate them was obtained, it was not implemented until 1924. The trams were abolished more than 20 years ago. Forty-six oil-engined buses of Guy and Daimler make are now run.
Throughout the area thee is a considerable amount of overlapping of services. In some places as many as three operators cover parts of a route. I would suggest that sbme co-ordination of services might help to reduce unremunerative mileage and it need have no effect on the standard of service.
a34