Dutch Operator Uses British Refrigerated Vehicles on International Services By a Special Correspondent
15th February 1957
Page 56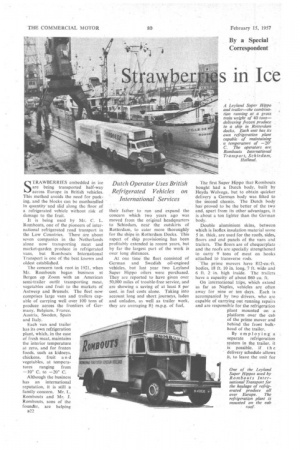 Page 57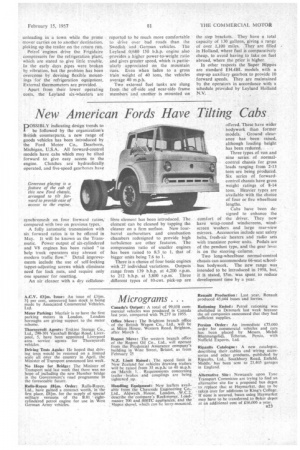 Page 56, 15th February 1957 —
Dutch Operator Uses British Refrigerated Vehicles on International Services By a Special Correspondent
Close
Keywords :
Articulated Vehicles
,
Food Preservation
,
Chemical Engineering
,
Heating, Ventilating, And Air Conditioning
,
Refrigeration
,
Thermodynamics
,
Semi-trailer Truck
,
Rombouts
,
Van
,
Refrigerated Van
,
Semi-trailer
,
Trailer
STRAWBERRIES embedded in ice are being transported half-way across Europe in British vehicles. This method avoids the need for packing, and the blocks can be manhandled in quantity and slid along the floor of a refrigerated vehicle without risk of damage to the fruit.
. It is being used by Mr. C. L. Rombouts, one of the pioneers of international refrigerated road transport in the Low Countries. There are about seven companies in the Netherlands alone now transporting meat and market-garden produce in refrigerated vans, but Rombouts International Transport is one of the best known and oldest established.
The concern took root in 1921, when Mr. Rombouts began business at Bergen op Zoom with an American semi-trailer outfit transporting meat, vegetables and fruit to the markets of Antwerp and Brussels. The fleet now comprises large vans and trailers capable of carrying well over 100 tons of produce across the frontiers of Germany, Belgium, France, Austria, Sweden, Spain and Italy.
Each van and trailer has its own refrigeration plant, which, in the case of fresh meat, maintains the interior temperature at zero, and for frozen foods, such as kidneys, chickens, fruit a n d vegetables, at temperatures ranging from —10° C. to —20° C.
Although the business has an international reputation, it is still a family concern. Mr. L. Rombouts and Mr. J. Rombouts, sons of the founder, are helping
B22 • their father to run and expand the concern which two years ago was moved from the original headquarters to Schiedam, near the outskirts of Rotterdam, to cater more thoroughly for the ships in Rotterdam Docks. This aspect of ship provisioning has been profitably extended in recent years, but by far the largest part of the work is over long distances.
At one time the fleet consisted of German and Swedish oil-engined vehicles, but last year two Leyland Super Hippo oilers were purchased. They are reported to have given over 50,000 miles of trouble-free service, and are showing a saving of at least 8 per cent, in fuel costs alone. Taking into account long and short journeys, laden and unladen, as well as trailer work, they are averaging 81 m.p.g. of fuel, The first Super Hippo that Rombouts bought had a Dutch body, built by Heyda Wolvega, but to obtain quicker delivery a German body was fitted to the second chassis. The Dutch body hasproved to be the better of the two and, apart from its other advantages, it is about a ton lighter than the German body.
Double aluminium skins, between which is Isoflex insulation material some 5 in. thick, are used for the roofs, sides. floors and end panels of the vans and trailers. The floors are of chequerplate and the roofs are specially strengthened to carry 9 tons of meat on hooks attached to transverse rods.
The prime movers have 812-cu.-ft. bodies, 18 ft. 10 in. long, 7 ft. wide and 6 ft. 2 in. high inside. The trailers have a capacity of about 860 cu. ft.
On international trips, which extend as far as Nantes, vehicles are often away for nine or ten days. Each is accompanied by two drivers, who are .capable of carrying out running repairs and are responsible for the refrigeration plant mounted on a platform over the cab of the prime mover and behind the front bulkhead of the trailer.
By employing a separate refrigeration system in the trailer, it is possible, if t h c delivery schedule allows it, to leave the unit for
unloading in a town while the prime mover carries on to another destination. picking up the trailer on the return run.
Petrol 'engines drive the Frigidaire compressors for the refrigeration plant, which are stated to give little trouble. In the early days pipes were broken by vibration, but the problem has been overcome by devising flexible mountings for the refrigeration equipment. External thermometers are provided.
Apart from their lower operating costs, the Leyland six-wheelers are reported to be much more comfortable to drive over bad roads than the Swedish and German vehicles. The Leyland 0/680 150 b.h.p. engine also provides a higher power-to-weight ratio and gives greater speed, which is particularly appreciated on the mountain runs. Even when laden to a gross train weight of 40 tons, the vehicles average 40 m.p.h.
Two external fuel tanks are slung from the off-side and near-side frame members. and another is mounted on
the step brackets. They have a total capacity of 130 gallons, giving a range of over 1,100 miles. They are filled in Holland, where fuel is comparatively cheap, to avoid having to take on fuel abroad, where the price is higher.
In other respects the Super Hippos are standard EH.4BL models with a step-up auxiliary gearbox to provide 10 forward speeds. They are maintained by the operators in accordance with a schedule provided by Leyland Holland N.V.