Many Road Signs to be Improved
15th February 1957
Page 50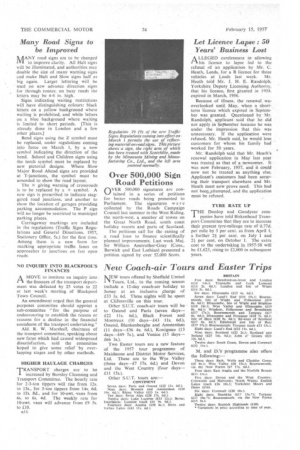 Page 50, 15th February 1957 —
Many Road Signs to be Improved
Close
MANY road signs are to be changed to improve clarity. All Halt signs will be illuminated, and authorities may double the size of many warning signs and make Halt and Slow signs half as big again. Larger lettering will be used on new advance direction signs for through routes; on busy roads the letters may he 4-6 in. .high.
Signs indicating waiting restric,tions will have distinguishing colours; black Letters on a yellow background where waiting is prohibited, and white letters on a blue background where waiting is limited to short periods. [This is already done in London and a few other places.]
Bend signs using the Z symbol must be replaced, under regulations coming into force on March 1, by a new symbol indicating the direction of the bend. School and Children signs using the torch symbol must be replaced by new pictorial designs. Where Slow Major Road Ahead signs are provided at T-junctions, the symbol must be amended to show the road layout.
The x giving warning of crossroads is to be replaced by a -Isymbol. A new sign is prescribed to indicate staggered road junctions, and another to show the location of garages providing parking accommodation. The P sign will no longer be restricted to municipal parking places.
Carriageway markings are included in the regulations (Traffic Signs Regulations and General Directions, 1957, Stationery Office, 5s.) for the first time. Among them is a new form for marking appropriate traffic lanes on approaches to junctions on fast open roads.
NO INQUIRY INTO BLACKPOOL'S FINANCES
AMOVE to institute an inquiry into the finances of the transport department was defeated by 25 votes to 22 at last week's meeting of Blackpool Town Council.
An amendment urged that the general purposes committee should appoint a sub-committee "for the purpose of endeavouring to establish the reason or reasons for a decline in the financial soundness of the transport undertaking."
Aid. R. W. Marshall, chairman of the transport committee, speaking about new fares which had caused widespread dissatisfaction, said the committee hoped to give some relief by overlapping stages and by other methods.
HIGHER HAULAGE CHARGES TRANSPORT charges are to be I increased by Burnley Cleansing and Transport Committee. The hourly rate for 2-3-ton tippers will rise from 12s. to 13s., for 5-ton tippers from 14s. 6d. to 15s. 8d., and for 10-cwt.-vans from 6s. to 6s. 4d. The weekly rate for 10-cwt. vans will advance from £9 5s. to £10.
n16
Over 500,000 Sign Road Petitions
rtVER 500,000 signatures are con
• tained in a series of petitions for better roads being presented to Parliament. The signatures w c re collected by the Roads Campaign Council last summer in the West Riding, the north-west, a number of towns on the Great North Road, south coast holiday resorts and parts IA Scotland.
The petitions call for the raising of a road loan to finance scientifically planned improvements. Last week Maj. Sir William Anstruther-Gray (Cons., Berwick and East Lothian) presented a petition signed by over 52,000 Scats.
Let Licence Lapse : 50 Years' Business Lost
A LLEGED carelessness in allowing I-this licence to lapse led to the refusal of an application by Mr. C. Heath, Leeds, for a B licence for three vehicles at Leeds last week, Mr. Heath told Mr. J. H. E. Randolph, Yorkshire Deputy Licensing Authority, that his licence, first giranted in 1954. expired in March, 1956.
Because of illness, the renewal was overlooked until May, when a shortterm licence which expired in September was granted. Questioned by Mr. Randolph, applicant said that he. did not apply in September because he was under the impression that this was unnecessary. If the application were refused, Mr. Heath said, he would lose customers for whom his family had worked for 50 years.
Mr. Randolph said that Mr. Heath's renewal application in May last year was treated as that of a newcomer. It was now February, 1957, and it could now not be treated as anything else. Applicant's customers had been securing their transport elsewhere and Mr. Heath must now prove need. This had not been attempted, and the application must be refused.
TYRE RATE UP
THE Dunlop and Goodyear companies have told Birkenhead Transport Committee that they are to increase their present tyre-mileage rate of 0.77d. per mile by 5 per cent, as from April 1, a further 21 per cent. on July 1 and 21 per cent. on October 1. The extra cost to the undertaking in 1957-58 will he £1,625, rising to £2,000 in subsequent years.