Appeal on Statement of Intent
15th February 1957
Page 47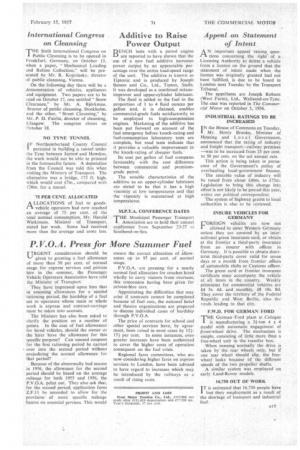 Page 47, 15th February 1957 —
Appeal on Statement of Intent
Close
AN important appeal raising questions concerning the right' of a Licensing Authority to delete a vehicle from a licence on the ground that the statement of intent made when the licence was originally granted had not been fulfilled, is due to be beard in London next Tuesday by the Transport Tribunal.
The appellants are Joseph Robson (West Farm), Ltd., Wallsend-on-Tyne. The case was reported in The Cornmercia Mbror on October 5, 1956.
INDUSTRIAL RATINGS TO BE INCREASED
IN the House of Commons on Tuesday,
Mr. Henry Brooke, Minister of Housing and Local Government, announced that the rating of industry and freight transport—railway premises —was to be increased from 25 per cent. to 50 per cent, on the net annual rate.
This action is being taken in pursuance of the Government's policy of overhauling local-government finance. ' The rateable value of industry will be raised from about £40m. to £75m. Legislation to bring this change into effect is not likely to be passed this year, writes our pohtical correspondent.
The system of highway grants to local authorities is also to be reviewed.
INSURE VEHICLES FOR GERMANY
F OREIGN vehicles are now not I allowed to enter Western Germany unless they are covered by an international green insurance card, or obtain at the frontier a third-party insurance from an insurer with offices in Germany. If is possible to obtain shortterm third-party cover valid for seven days or a month from frontier offices of automobile clubs or Customs offices.
The green card or frontier insurance certificate must accompany the vehicle at all times in the country. Weekly premiums for commercial vehicles arc £4 5s. 4d. and monthly, £8 10s. fid. They cover the territory of the Federal Republic and West Berlin, also the roads leading to that city.
F.W.D. FOR GERMAN FORD THE German Ford plant at Cologne is manufacturing a 5-1-ton 4 x 4 model with automatic engagement of front-wheel drive. The mechanism is simple, consisting of little more than a free-wheel unit in the transfer box. . When running normally the drive is taken by the rear wheels only, but if one rear wheel should slip, the freewheel locks because Of the different speeds of the two propeller shafts.
A similar system was employed on early Land-Rover models.
16,750 OUT OF WORK
IT is estimated that 16,750 people have lost their employment as a result of the shortage of transport and industrial fuel.