National C-licence Pool Unlikely
15th February 1957
Page 46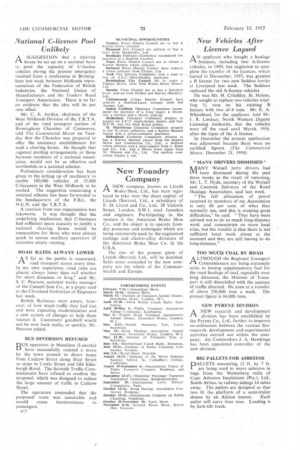 Page 46, 15th February 1957 —
National C-licence Pool Unlikely
Close
IAA SUGGESTION that a clearing house be set up on a national basis to pool the capacity of C-licence vehicles during the present emergency resulted from a conference in Birmingham last week between Midlands representatives of the Federation of British industries, the National Union of Manufacturers and the Traders Road Transport Association. There is so far no evidence that the idea will be put into effect.
Mr. C. E. Jordan, chairman of the West Midlands Division of the T.R.T.A. and of the road transport section of Birmingham Chamber of Commerce, told The Commercial Moor on Tuesday that the Chamber was prepared to offer the necessary establishment for such a clearing house. He thought that regional pooling arrangements, or those between members of a national association, would not be as effective and worthwhile as a national scheme.
Preliminary consideration has been given to the setting up of machinery to enable 100,000 vehicles of 35,000 C-licensees in the West Midlands to be pooled. The suggestion concerning a national scheme has been forwarded to the headquarters of the F.B.I., the N.U.N. and the T.R.T.A.
A reaction from one organization was lukewarm. It was thought that the underlying implication that C-licensees had sufficient spare capacity to justify a national clearing house would be ammunition for those who were always quick to accuse ancillary operators of excessive empty running.
ROAD RATES ALWAYS LOWER "AS far as the public is concerned,
road transport scores every time. In my own experience, road rates are almost always lower than rail whether for short distances or long," said Mr. S. C. Pearson, assistant works manager of the Consett Iron Co., in a paper tead to the Cleveland Institution of Engineers last week.
British Railways were aware, however, of how much traffic they had lost and were expecting modernization and a new system of charges to help them recover it. Customers' goodwill would not be won back easily, or quickly, Mr. -Pearson added.
BUS DIVERSION REFUSED
DUS operators in Hamilton (Lanarks)
have successfully resisted a move by the town council to divert buses from Cadzow Street along Muir Street to stops in Castle Street and Old Edinburgh Road. The Scottish Traffic Commissioners have refused to confirm the proposal, which was designed to reduce the large amount of traffic in Cadzow Street.
The operators contended that the proposed route was unsuitable and would cause inconvenience to passengers.
n12
New Foundry Company
ANEW company, known as Lloyds Brake-Shoe, Ltd., has been registered to take over the share capital of Lloyds (Burton), Ltd., a subsidiary of F. H. Lloyd and Co., Ltd., 28 Victoria Street, London, S.W.1, steel founders and engineers. Participating in the venture is the American Brake Shoe Co., and the object is to operate foundry processes and techniques which are being extensively used by the engineered castings and electro-alloy divisions of the American Brake Shoe Co. in the U.S.A.
The size of the present plant of Lloyds (Burton), Ltd., will be doubled. Sales areas conceded to the new cornparty are the whole of the Commonwealth and Europe. New VehiclesAfter Licence Lapsed AN applicant who bought a haulage business, including two A-licence vehicles, in 1949, but neglected to complete the transfer of the licences, which lapsed in November, 1955, was granted a B licence for two new Seddon lorries at Liverpool last week. The Seddons replaced the old A-licence vehicles.
He was Mr. H. Critchley, St. Helens, who sought to replace two vehicles totalling 51 tons on his existing B licence with two of.8 tons. Mr. E. A. Whitehead, for the applicant, told Mr.' J. R. Lindsay, North Western Deputy Licensing Authority, that the vehicles were off the road until March, 1956. after the lapse of the A licence.
In December the present application was adjourned because there were no certified figures (The Commercial illotor, December 21, 1956).
" MANY DRIVERS DISMISSED"
MANY Walsall lorry drivers had been dismissed during the past three weeks as the result of rationing, Mr. L. T. Hyde, secretary of the Walsall and Cannock Sub-area of the Road Haulage Association, said last week.
"The full allocation of petrol received by members of my Association is only 60 per cent, of what they normally use, and this is creating great difficulties," he said. "They have been advised not to do so much long-distance work and concentrate on more local trips, but the trouble is that there is not sufficient local work about at the moment and they arc still having to do long-distance."
TOO MUCH COAL BY ROAD
ALTHOUGH the Regional Transport Commissioners are being extremely strict in issuing supplementary fuel for the road haulage of coal, especially over long distances, the Minister of Transport is still dissatisfied with the amount of traffic diverted. He aims at a transfer of about 250,000 tons a week. The present figure is 64,000 tons.
NEW PYRENF DIVISION
ANEW research and development division has been established by the Pyrene Co., Ltd., further to improve co-ordination between the various fireresearch, development and experimental activities carried out within the company. Air Commodore J. A. Hawkings has been appointed controller of the new division.
BIG PALLETS FOR ASBESTOS DALLETS measuring 12 ft. by 7 ft.
are being used to move asbestos in bags from the Westerberg mills of Cape Asbestos Insulations (Pty.), Ltd., South Africa, to railway sidings 14 miles away. The pallets are designed so that two fit the platform of a semi-trailer
drawn by an Albion tractor. Each pallet will carry four tons. Loading is by fork-lift truck.