One Hears
15th February 1957
Page 41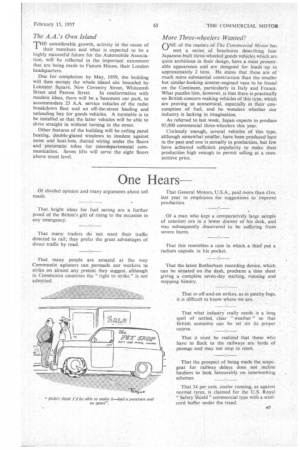 Page 41, 15th February 1957 —
One Hears
Close
Of divided opinion and many arguments about toll roads.
That, bright ideas for fuel saving are a further proof of the Briton's gift of rising to the occasion in any emergency.
That many traders do not want their traffic directed to rail; they prefer the great advantages of direct traffic by road.
That many people are amazed at the way Communist agitators can persuade our workers to strike on almost any pretext they suggest, although in Communist countries the "right to strike" is not admitted. • That General Motors, U.S.A., paid more than ilm. last year to employees for suggestions to improve production.
Of a man who kept a comparatively large sample of uranium ore in a lower drawer of his desk, and was subsequently discovered to be suffering from severe burns.
That this resembles a case in which a thief put a radium capsule in his pocket.
That the latest Rotherham recording device, which can be situated on the dash, produces a time sheet giving a complete seven-day starting, running and stopping history.
That in off-and-on strikes, as in patchy fogs, it is difficult to know where we are.
That what industry really needs is a long spell of settled, clear • " weather" so that British economy can beset on its proper• course.
That it must be realized that those who have to flock to the railways are birds of passage and may not stop to roost.
That the prospect of being made the scapegoat for railway delays does not • incline hauliers to look favourably on interworking schemes.
That 34 per cent. cooler running, as against normal tyres, is claimed for the U.S. Royal "Safety Shield" commercial type with a steelcord buffer under the tread.