Possibilities in Bulk Liquids
15th February 1957
Page 40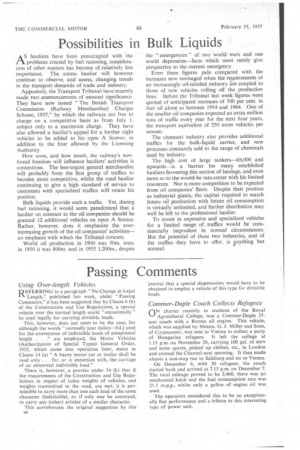 Page 40, 15th February 1957 —
Possibilities in Bulk Liquids
Close
A S hauliers have been preoccupied with the problems created by fuel rationing, consideration of other matters has become of relatively less importance. The astute haulier will however continue to observe, and assess, changing trends in the transport demands of trade and industry. Appositely, the Transport Tribunal have recently made two announcements of unusual significance. They have now issued "The British Transport Commission (Railway Merchandise) Charges Scheme, 1957," by which the railways are free to charge on a competitive basis as from July 1, subject only to a maximum charge. They have also allowed a haulier's appeal for a further eight vehicles to be added to his open A licence, in addition to the four allowed by the Licensing Authority.
How soon, and how much, the railway's newfound freedom will influence hauliers' activities is contentious. The less-urgent general merchandise will probably form the first group of traffics to become more competitive, whilst the road haulier continuing to give a high standard of service to customers with specialized traffics will retain his position.
Bulk liquids provide such a traffic. Yet, during fuel rationing, it would seem paradoxical that a haulier on contract to the oil companies should be granted 12 additional vehicles on open A licence. Rather, however, does it emphasize the everincreasing growth of the oil companies' activities— an emphasis with which the Tribunal concurs.
World oil production in 1900 was 50m. tons; in 1950 it was 800m. and in 1955 1,200m., despite the " emergencies " of two world wars and one world depression—facts which must surely give perspective to the current emergency.
Even these figures pale compared with the increases now envisaged when the requirements of an increasingly oil-minded industry are coupled to those of new vehicles rolling off the production lines. Before the Tribunal last week figures were quoted of anticipated increases of 700 per cent. in fuel oil alone as between 1954 and 1964. One of the smaller oil companies expected an extra million tons of traffic every year for the next four years, the transport equivalent of 250 more vehicles per annum The chemical industry also provides additional traffics for the bulk-liquid carrier, and new processes constantly add to the range of chemicals used by industry The high cost of large tankers—£6,000 and upwards—is a barrier for many established hauliers favouring this section of haulage, and even more so to the would-be rate-cutter with his limited resources. Nor is more competition to be expected from oil companies' fleets Despite their position as industrial giants, the capital required to match future oil production with future oil consumption is virtually unlimited, and further distribution may well be left to the professional haulier.
To invest in expensive and specialized vehicles for a limited range of traffics would be commercially imprudent in normal circumstances. But the potential of these two industries, and of the traffics they have to offer, is "anything but normal.