Passing Comments
15th February 1957
Page 40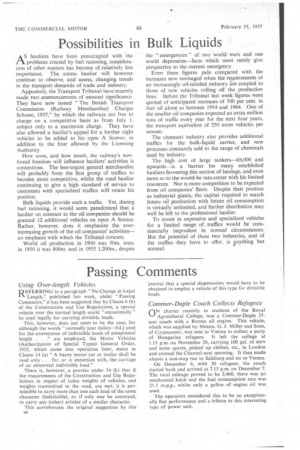 Page 41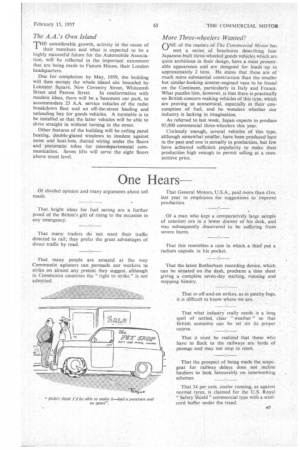 Page 40, 15th February 1957 —
Passing Comments
Close
Using Over-length Vehicles
REFERR1NG to a paragraph "No Change in Legal Length," published last week, under "Passing Comments," it has been suggested that by Clause 6 (b) of the Construction and Use Regulations, a special vehicle over the normal length could " occasionally " be used legally for carrying divisible loads.
This, however, does not seem to be the case, for although the words "normally [our italics—Ed.] used for the conveyance of indivisible loads of exceptional length . . ." are employed, the Motor Vehicles (Authorization of Special Types) General Order, 1955, which came into operation later, states in Clause 14 (a) "A heavy motor car or trailer shall be used only . . for, or in conection with, the carriage of an abnormal indivisible load."
There is, however, a proviso under 14 (k) that if the requirements of the Construction and Use Regulations in respect of laden weights of vehicles, and weights transmitted to the road, are met, it is permissible to carry more than one such load of the same character (indivisible), or if only one be conveyed, to carry any (other) articles of a similar character.
This corroborates the original suggestion by this n6 journal that a special dispensation would have to be obtained to employ a vehicle of this type for divisible loads.
CommerDuple Coach Collects Refugees
ON charter recently to students of the Royal Agricultural College, was a Commer-Duple 37seat coach with a Rootes oil engine. This vehicle, which was supplied by Messrs. G. J. Miller and Sons, of Circencester, was sent to Vienna to collect a party of Hungarian refugees. It left the college at 1.15 p.m. on November 29, carrying 100 gal. of dery and some spares, picked up clothes, etc., in London and crossed the Channel next morning. It then made almost a non-stop run to Salzburg and on to Vienna.
On December 4, with 30 refugees, the coach started back and arrived at 7.15 p.m. on December 7. The total mileage proved to be 2,460, there was no mechanical hitch and the fuel consumption rate was 21.1 m.p.g., whilst only a gallon of engine oil was used.
The operators considered this to be an exceptionally fine performance and a tribute to this interesting type of power unit.
The A.A.'s Own Island
THE considerable growth, activity in the cause of their members and what is expected to be a highly successful future for the Automobile Association, will be reflected in the important extensions that are being made to Fanum House, their London headquarters.
Due for completion by May, 1959, the building will then occupy the whole island site bounded by Leicester Square, New Coventry Street, Whitcomb Street and Panton Street. In conformation with modern ideas, there will be a basement car park, to accommodate 25 A.A. service vehicles of the radio breakdown fleet and an off-the-street loading and unloading bay for goods vehicles. A turntable is to be installed so that the latter vehicles will be able to drive straight in without turning in the street.
Other features of the building will be ceiling panel heating, double-glazed windows to insulate against noise and heat-loss, ducted wiring under the floors and pneumatic tubes for interdepartmental communication. Seven lifts will serve the eight floors above street level.
More Three-wheelers Wanted?
ONE of the readers of The Commercial Motor has
sent a series of brochures describing four Japanese-built three-wheeled goods vehicles which are quite ambitious in their design, have a most present, able appearance and are designed for loads up to approximately 2 tons. He states that these are of much more substantial construction than the smaller but similar-looking scooter-engined vans to be found on the Continent, particularly in Italy and France. What puzzles him, however, is that there is practically no British concern making vehicles of this type, which are proving so economical, especially in their consumption of fuel, and he wonders whether our industry is lacking in imagination. - As referred to•last week, Japan expects to produce 95,000 commercial three-wheelers this year.
Curiously enough, several vehicles of this type, although somewhat smaller, have been produced here in the past and one is actually in production, but few have achieved sufficient popularity to make their production high enough to permit selling at a competitive price.