Light Van Drivers the Culprits?
15th February 1952
Page 50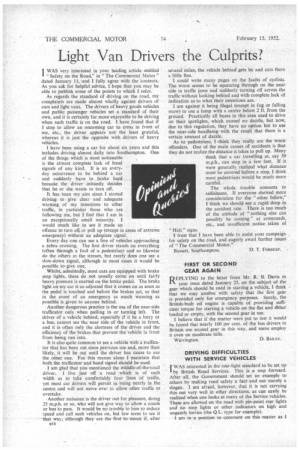 Page 51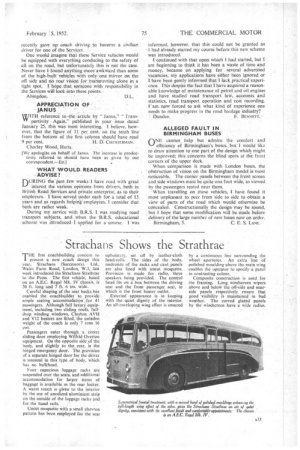 Page 50, 15th February 1952 —
Light Van Drivers the Culprits?
Close
Keywords :
Road Transport
,
Traffic Law
,
Road Safety
,
Automotive Lighting
,
Traffic
,
Road Traffic Safety
,
Driving
,
Headlamp
,
Driving In The United Kingdom
,
Truck Driver
,
Disaster / Accident
I WAS very interested in your leading article entitled Safety on the Road," in "The Commercial Motor" dated January 11, and I fully agree with the contents.
As you ask for helpful advice, 1 hope that you may be able to publish some of the points to which I refer.
As regards the standard of driving on the road, my complaints are made almost wholly against drivers of cars and light vans. The drivers of heavy goods vehicles and public passenger vehicles set a standard of their own, and it is certainly far more enjoyable to be driving
when such traffic is on the road. I have found that if 1 stop to allow an oncoming car to cross in front of me, etc., the driver appears not the least grateful, whereas it is just the opposite with drivers of heavy vehicles.
I have been using a car for about six years and this includes driving almost daily into Southampton. One of the things which is most noticeable is the almost complete lack of hand signals of any kind. It is an every• ' day occurrence to be behind a car and suddenly have to brake hard because the driver instantly decides that he or she wants to turn off.
It has been my aim since I started driving to give clear and adequate warning of my intentions to other traffic, in particular those who are following me, but I find that I am in
an exceptionally small minority. I would much like to see it made an offence to turn oft or pull up (except in cases emergency) without an adequate signal.
Every day one can see a line of vehicles approaching a zebra crossing. The first driver stands on everything (often through a fool of a pedestrian) and so likewise do the others in the stream, but rarely does one see a slow-down signal, although in most cases it would be possible to give one.
Whilst, admittedly, most cars are equipped with brake stop lights, these do not usually come on until fairly heavy pressure is exerted on the brake pedal. The brake light on my car is so adjusted that it comes on as soon as the pedal is touched and before the brakes act, so that in the event of an emergency as much Warning as possible is given to anyone behind.
Another dangerous practice is the use of the near-side trafficator only when pulling in or turning left. The driver of a vehicle behind, especially if it be a lorry or a bus, cannot see the near side of the vehicle in front, and it is often only the alertness of the driver and the efficiency of the brakes that prevent the vehicle in front from being run into.
It is also quite common to see a vehicle with a trafficator that has been out since previous, use and, more than likely, it will be out until the driver has cause to use the other one. For this reason alone I maintain that both the trafficator and hand signal should be used.
1 am glad that you mentioned the middle-of-the-road driver, I live just off a road which is of such width as to take comfortably four lines of traffic, yet most car drivers will persist in being nearly in the centre and will not move over to allow other traffic to overtake.
Another nuisance is the driver out for pleasure, doing 25 m.p.h. or so, who will not give way to allow a coach or bus to pass. it would be no trouble to him to reduce speed and call such vehicles on, but few seem to see it that way, although they are the first to moan if, after n16 of extreme several miles, the vehicle behind gets by and cuts them a little fine.
1 could write many pages on the faults of cyclists. The worst seems to be squeezing through on the near side in traffic jams and suddenly turning off across the traffic without looking behind and with complete lack of indication as to what their intentions are.
I am against it being illegal (except in fog or falling snow) to use a lamp with a centre below 2 ft. from the ground. Practically all buses in this area used to drive on their spotlights, which caused no dazzle, but now, due to this regulation, they have no option but to use the near-side headlamp with the result that there is a certain amount of dazzle.
As to pedestrians, I-think they really are the worst offenders. One of the main causes of accidents is that they do not realize the distance it takes to pull up. Many think that a car travelling at, say 30 m.p.h., can stop in a few feet. If it were generally realized what distance must be covered before a stop, I think most pedestrians would be much more careful.
The whole trouble amounts to selfishness. If everyone showed more consideration for the "other fellow," I think we should see a rapid drop in the accident rate. There is too much of the attitude of "nothing else can possibly be coming" at crossroads, etc., and insufficient notice taken of " Halt" signs.
I trust that I have been able to assist your .campaign for safety on the ioad, and eagerly await further issues of "The Commercial Motor."
Bassett, Southampton. D. T. FORREST. • FIRST OR SECOND GEAR AGAIN REPLY1 NG to the letter from Mr. R. B. Davis in your issue dated January 25, on the subject of the gear which should be used in starting a vehicle, I think that we may assume with safety that the first gear. is provided only for emergency purposes. Surely, the British-built oil engine is capable of providing sufficient torque for starting a vehicle on the flat and Either loaded or empty, with the second gear in use.
I believe that if the matter were put to test it would be found that nearly 100 per cent. of the bus drivers in Britain use second gear in this way, and some employ it even on moderate hills.
Warrington. D. BAILEY.
DRIVING DIFFICULTIES WITH SERVICE VEHICLES WAS interested in the rear-light standard to be set up by British Road Services. This is a step forward. After all, the Government should set an example to others by making road safety a fact and not merely a slogan. I am afraid, however, that it is not carrying this out very well in other directions, as can easily be realized when one looks at many of the Service vehicles. These are allowed on the road with pin-point rear lights and no stop lights or other indicators on high and ungainly lorries (the Q.L. type for example).
I amin a position to comment on this matter as
recently gave up coach driving to become a civilian driver for one of the Services.
One would imagine that these Service vehicles would be equipped with everything conducing to the safety of all on the road, but unfortunately this is not the case. Never have I found anything triore•awkward than some of the high built'vehicles with Only one Mirror on the off side and no rear vision for Manceuvring alone in a tight spot I hope that someone with responsibility in the Services will look into these points.
Abingdon. • D.L.
• APPRECIATION OF JAN US
WITH reference' to -the, article by "Janus," "TransVi' portivity Again," published in your issue dated January' 25, this was most interesting. I believe, however, that the figure of 11 per cent, on the tenth line' from the bottom of the first column should have read 9 per cent. . H. D: CursrramAN. Choi-ley Wood, Herts.
[We apologize on behalf of Janus. The increase in productivity referred to should have hen as given by our correspondent.--ED.1 •
WHAT WOULD READERS . ADVISE ?
DURING the past few weeks I have read with great interest the various opinions from drivers, both in British Road Services and private enterprise, as to their. employers. I have served under each for a total of 15 years and as regards helping employees,1 consider that
beth are rather weak.
During my service with B.R.S. I was, studying road transport subjects, and, when the .B.R.S. educational . scheme was introduced-I applied for a course. I was informed, however, that this could not be granted as -I had already started my course before this new scheme was introduced.
I continued with that upon which 1 had started, but I am beginning to think it has been a waste of time and money, because on applying •for several advertised vacancies, my applications have either been ignored or I have been gently informed that! lack ,practicaIexperience. This despite the fact that I have acquired a reasonable knowledge of maintenance of petrol and oil engines and have studied road transport law, accounts and statistics, road transport operation and cost recording.
am_ now forced to ask what kind of experience• one needs to make progress in the road haulage industry?
Dundee. Y. BENNETT.
ALLEGED FAULT IN. BIRMINGHAM BUSES
(NE cannot.. help but admire the comfort and \--•" efficiency of Birmingham's buses, but I would tiLe to draw attention to one part of. the design which Might be improved; this cOncerns the blind spots at the front corners of the upper deck.
When comparison is made with London buses, the obstruction of vision on the Birmingham model 'is most noticeable. The corner panels between' the front screen and side windows must be quite one foot wide, as viewed by the passengers seated near them.
When travelling on -these vehicles, have found it most unpleasant -to peer from sideto side to obtain a view of parts of the road which would otherwise be concealed. Constructionally the design may be sound, but I hope that some modification will be made before delivery of the large min-iber of new buses now on order.
Birmingham, 5. C. E. S. LANE.