B.T C. Should Keep Close Touch with Users, says Report
15th February 1952
Page 35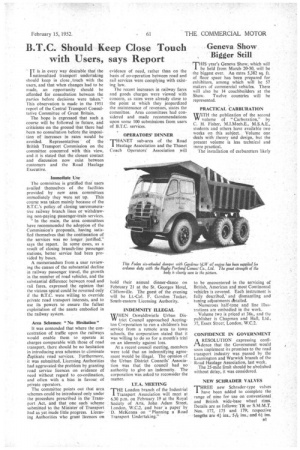 Page 36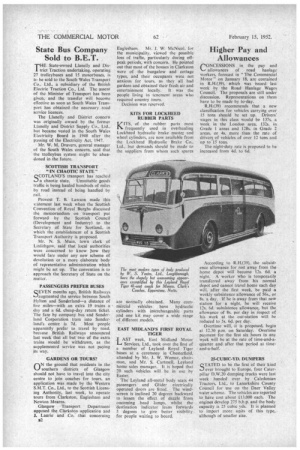 Page 35, 15th February 1952 —
B.T C. Should Keep Close Touch with Users, says Report
Close
" TT is in every way desirable that the 'nationalized transport undertaking should keep in close ,touch with the users, and that when changes had to be made, an opportunity should be afforded for consultation between the parties before decisions were taken." This observation is made in the 1951 report of the Central Transport Consultative Committee of Great Britain.
The hope is expressed that such ,a course will be followed in future, and criticisms on the ground that there had been no consultation before the imposition of increases in rates would be avoided. Representatives of the British Transport Commission on the committee concurred with this view, and it is stated that the closest contact and discussion now exist between customers and the Road Haulage Executive.
Immediate Use The committee is gratified that users availed themselves of the facilities provided by new area committees immediately they were set up. This course was taken mainly because of the B.T.C.'s policy . of closing unremuneralive railway branch lines or withdrawing non-paying passenger-train services.
"In the main, the area committees have recommended the adoption of the Commission's proposals, having satisfied themselves that the continuation of the services was no longer justified," says the report. In some cases, as a result of closing branch-line passenger, stations, better service had been provided by buses.
A memorandum from a user review.ing the causes of the substantial decline in railway passenger travel, the growth in the number of road vehicles, and the . substantial difference between road and rail fares, expressed the opinion that the viciousspiral could be reversed only if the B.T.C. were willing to override private road transport interests, and to use its powers to ensure the fullest exploitition of the assets embodied in the railway system.
Area Schemes: "No Hesitation" It was contended that where the concentration of traffic upon the railways would enable them to operate at charges comparable with those of road transport, there should be no hesitation in introducing area schemes to eliminate &plicate road services. Furthermore, it was submitted,. Licensing. Authorities had aggravated the problem by granting road service licences on evidence of need without regard to co-ordination, and oftenwith a bias in favour of private operators.
The committee points out that area schemes could be introduced only under the procedure prescribed in the-Transport Act, and that one such scheme submitted to the Minister of Transport had as yet Made little progress. Licensing Authorities who grant licences on evidence of need, rather than on the basis of co-operation between road and rail services were complying with existing law.
The recent increases in railway fares and goods charges were viewed with concern, as rates were already close to the point at which they jeopardized the maintenance of revenues, states the committee. Area committees had considered and made recommendations upon some 100 submissions from users of B.T.C. services.
OPERATORS' DINNER MHANET sub-area of the Road Haulage Association and the Thanet Coach Operators' Association will hold their annual dinner-dance on February 21 at the St. Georges Hotel, Cliftonville. The guest of the evening will be Lt.-Col. F. Gordon Tucker, South-eastern Licensing Authority.
INDEMNITY ILLEGAL WHEN Oswaldtwistle Urban DisW trict Council approached Accrington Corporation to run a children's bus service from a remote area to town schools, the corporation stated that it was willing to do so for a month's trial on an idemnity against loss.
At a recent council meeting, members were told that an indemnifying agreement would be illegal. The opinion of the Urban District Councils' Association was that the council had no authority to give an indemnity. The corporation was asked to reconsider the matter.
I.T.A. MEETING
THE London branch of the Industrial
Transport Association will meet at 6.30 p.m. on February 19 at the Royal Society of Arts, John Adam Street, London, ,WC2, and hear 'a paper by D. McKenna on "Planning a Road Transport Undertaking."
Geneva Show.
, Bigger Still
THIS ,year's Geneva Show, which will be held from March 20-30, will be the biggest ever. An extra 5,382 sq. ft. of floor space has been prepared for exhibitors, among which will be 57 makers of commercial vehicles. There will also be 14 coachbuilders at the Show. Twelve countries will be represented.
PRACTICAL CARBURATION
WITH the publication of the second W volume of "Carburation," by C. H. Fisher, M.I.Mech.E., M.S.A.E., students and others have available two works on this subject. Volume one -deals with theory and design, but the present volume is less technical and more practical.
The installation of carburetters likely to be encountered in the servicing of British, American and most Continental vehicles is covered. Each instrument is fully described, and dismantling and tuning adjustments clbtailed.
Numerous half-tone and line illustrations are embodied in the work.
Volume two is priced at 36s., and the publisher is Chapman and Hall, Ltd., 37, Essex Street; London, W.C.2.
CONFIDENCE IN GOVERNMENT
A RESOLUTION expressing confiP-Idence that the Government would soon implement its promises to the road transport industry was passed by the Leamington and Warwick branch of the Road Haulage Association, last week.
The 25-mile limit should be abolished without delay, it was considered.
NEW SCHRADER VALVES 'THREE new Schrader-type valves
have been added to complete the range of nine for use on conventional and British wide-base wheel rims. Details are as follows: TR or S.M.M.T. Nos. 177, 175 and 179; respective lengths are 41ins., 52T ins., and 64 ins.
State Bus Company Sold to B.E.T.
THE State-owned Llanctly and District Traction undertaking, operating 27 troffeybuses and 15 motorbuses, is to be sold to the South Wales Transport Co., Ltd., a subsidiary of the British Electric Traction Co., Ltd. The assent of the Minister of Transport has been given, and the transfer will become effective as soon as South Wales Transport has obtained the necessary road service licences.
The Llanelly and District concern was originally owned by the former Llanelly and District Supply Co., Ltd., but became vested in the South Wales Electricity Board in 1948 after the passing of the Electricity Act, 1947.
Mr. W. M. Dravers, general manager of the South Wales concern, said that the trolleybus system might be ahaadolled in the future.
SCO1TISH TRANSPORT
" IN CHAOTIC STATE" CCOTLAND'S transport has reached Oa chaotic state. . Unsuitable. goods traffic is being hauled hundreds of miles by road instead of being handled by rail.
Provost T. B. Lawson made this s:atement last week when the Scottish Convention of Royal Burghs discussed the memorandum on transport put forward by the Scottish Council (Development and Industry) to the Secretary of State for Scotland, in which the establishment of a Scottish Transport Authority is proposed.
Mr. N. S. Main, town clerk of Linlithgow, said that local authorities were concerned to know how they would fare under any new scheme of devolution or a more elaborate body of representative administration which might be set up. The convention is to approach the Secretary of State on the matter.
PASSENGERS PREFER BUSES
SEVEN months ago, British Railways augmented the service between South Hylton and Sunderland—a distance of live miles—with an extra 19 trains a day and a 6d. cheap-day return ticket. The fare by company bus and Sunderland Corporation tram into Sunderland's centre is 7d. Most people apparently prefer to travel by road, because British Railways announced last week` that all but two of the extra trains would be withdrawn, as the supplemented service was not paying its way.
GARDENS OR TOURS?
ON the ground that residents in the southern districts of Glasgow should not have to travel into the city centre to join coaches for tours, an application was made by the Western S.M.T. Co., Ltd., to the Scottish Licensing Authority, last week, to operate tours from Clarkston, Eaglesham and Newton Mearns.
Glasgow Transport Department opposed the Clarkston application and L Laurie and Co.' that concerning
Eaglesham. Mr. J. W. McNicol, for
the municipality, viewed the possible loss of traffic, particularly during offpeak periods, with concern. He pointed out that most of the houses in Clarkston were of the bungalow and cottage types, and their occupants were not anxious for tours, as they all had gardens and obtained their fresh air and entertainment locally. It was the people living in tenement areas who required country tours.
Decision was reserved.
KITS FOR LOCKHEED RUBBER PARTS
KITS. of the rubber parts most frequently used in overhauling Lockheed hydraulic brake master and wheel cylinders, are now available from the Lockheed Hydraulic Brake Co., Ltd., but demands should be made to the suppliers from whom such spares
are normally obtained. Many commercial vehicles have hydraulic cylinders with interchangeable parts and one kit rnay cover a wide range of different models.
EAST MIDLAND'S FIRST ROYAL TIGER
'LAST week, East Midland Motor Services, Ltd., took over the first of a number of Leyland Royal Tiger buses at a ceremony in Chesterfield, attended by Mr. J. W. Womar, chairman, and Mr. S. Cartrnell, Leyland home sales manager. it is hoped that 20 such vehicles will be in use by Easter.
The Leyland all-metal body seats 44
passengers • and Glider electrically operated doors are fitted. The windscreen is inclined 20 degrees backward to • lessen. the effect of dazzle from oncoming head lamps,, whilst the destination indicator leans forwards 5 degrees to give better visibility, for people waiting to board.
Higher Pay and Allowances
rONCESSIONS in the pay and allowances of road haulage workers, forecast in "The Commercial Motor " on January 18, are contained in R.H.(39), which was issued last week by the Road Haulage Wages Council. The proposals are still under discussion. Representations on them have to be made by to-day.
R.H.(39) recommends that a new classification for vehicles carrying over 15 tons should be set up. Drivers' wages in this class would be 137s. a week in the London area. 132s. in Grade 1 areas and 128s. in Grade 2 areas, or 4s. more than the rate of drivers, of vehicles of over 12 tons and up to 15 tons.
The night-duty rate is proposed to be increased from 4d. to 6d.
According to R.H.(39), the subsistence allowance for rest away from the home depot will become 12s. 6d. a night. A worker who is temporarily transferred away from his normal depot and cannot travel home each day will, after the first week, be paid a weekly subsistence. allowance of 56s., or 8s. a day. If he is away from that new station for a night, he will receive 12s. 6d. subsistence allowance, but the allowance of 8s. per day in iespect of his work at the out-station will be reduced to 5s. 6d, per day.
Overtime will, it is proposed, begin at 12.30 p.m. on Saturday. Overtime payment for the first six hours in any week will be at the rate of time-and-a' quarter and after that period at timeand-a-half.
25-Cuffic-yth DUMPERS
STATED to be the first of their kind ever brought to Europe, four Caterpillar D.W.20 dumping trucks were last week handed over by Caledonian Tractors, Ltd., to Lanarkshire County Council for use on the Daer Valley water scheme. The vehicles are reported to have cost about £13,000 each. The engines develop 275 b.h.p. and the body capacity is 25 cubic yds. It is planned to import more units of this type,. although of smaller size.
Tags
Organisations
:
Central Transport Consultative Committee
,
IN GOVERNMENT
,
Scottish Transport Authority
,
Urban District Councils' Association
,
CONFIDENCE IN GOVERNMENT
,
Glasgow Transport Department
,
South-eastern Licensing Authority
,
Scottish Licensing Authority
,
Royal Society of Arts
,
Scottish Council
,
Road Haulage Association
,
British Transport Commission
,
Lanarkshire County Council
,
Road Haulage Wages Council
,
Industrial Transport Association