Rail Travel Too Expensive ?
15th February 1952
Page 34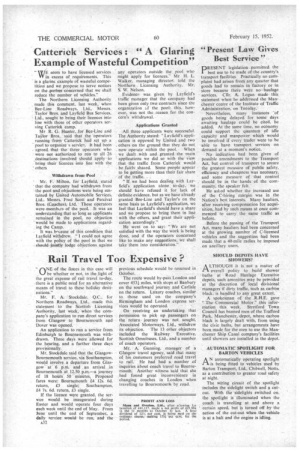 Page 34, 15th February 1952 —
Rail Travel Too Expensive ?
Close
" (-NNE of the rssues in this case will V be whether or not, in the light of the great expense of rail travel to-day,
• there is a public need for an alternative means of travel to these holiday destinations.
Mr. F. A. Stockdale. Q.C., for Northern Roadways, Ltd.. made this statement to the Scottish Licensing 'Authority, last week, when the company's application to run direct services from Glasgow to Bournemouth and Dover was opened, An application to run a service from Edinburgh to Etournemouth was withdrawn. Three days were allowed for the hearing, and a further three days provisionally.
Mr. Stockdale said that the GlasgowBournemouth service, via Southampton, would involve a departure from Glasgow at 6 p.m. and an arrival in Bournemouth at. 12.50 p.m.—a journey of 18 hours 50 minutes. Proposed fares were: Bournemouth £4r 12s. 6d. return, £3 single; Southampton, £4 7s. 6d. return, £3 single.
If the licence were granted, the service would be inaugurated during Easter and would operate four days each week until the end of May. From June until the• end of September, a daily service would be run; mid the A32 previous schedule would be resumed in October.
The route would by-pass London and cover 453i miles, with stops at Banbury on the southward journey and Carlisle on the return. Luxury coaches, similar to those used on the company's Birmingham and London express ser vices would be operated.
On receiving an undertaking that permission to pick up passengers on the return journey was not sought. Associated Motorways, Ltd., withdrew its objection. The 13 other objectors included the Railway Executive. Scottish Omnibuses, Ltd., and a number of coach operators.
Mr. A, Gunning, manager of a Glasgow travel agency, said that many of his customers preferred road travel to rail. He had had a number of inquiries about coach travel to Bournemouth: Another witness said that she had found great inconvenience in changing coaches in London when travelling to Bournemouth by road.