"Present Law Gives 'Best Service"
15th February 1952
Page 34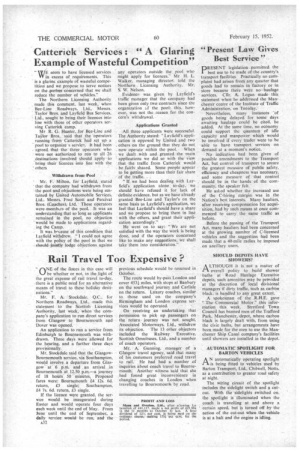 Page 34, 15th February 1952 —
"Present Law Gives 'Best Service"
Close
PRESENT legislation _permitted the best use to be made of the country's transport facilities. Practically no cornplaint had arisen from any quarter that goods had to remain in factory or in store because there were no haulage services. ClIr. A. Logan made this statement when he. addressed the Manchester centre of the Institute of Traffic Adininistration, on Tuesday.
Nevertheless, many instances of goods being delayed for some days awaiting haulage could he cited, he added. At the same time, no economy could support the quantum of idle capacity and manpower which would be involved if every trader were to be able to have transport services on demand at a moment's notice. .
No indication had been given of possible amendments to the Transport Act, but control of transport to secure the greatest measure of public safety, efficiency and cheapness was necessary, and some measure of that control should be in the hands of the community, the speaker felt.
He asked whether the increased use of the C-hiring margin was in the Nation's best interests. Many hauliers, after receiving compensation for acquisition,.had by such means at once commenced to carry the same traffic as before.
Before the passing of the Transport Act, many hauliers had been concerned at the growing number of C-licensed vehicles and the suggestion had been made that a 40-mile radius be imposed on ancillary users.
SHOULD DEPOTS HAVE SHOWERS?
A LTHOUGH it is not a matter of i"k overall policy to build shower " baths at Road Haulage Executive depots, such amenities may be provided
• at the discretion of local divisional managers if dirty traffic, such as carbon • black, is handled to any great extent. A spokesman of the R.H.E. gave " The Commercial Motor ' this information this week. Stretford Town Council has banned men of the Trafford Park, Manchester, -depot, where carbon black is largely dealt with, from using the civic baths, but arrangements have been made for the men to use the Manchester Ship Canal company's facilities until showers are installed in the depot.
AUTOMATIC SPOTLIGHT FOR BARTON VEHICLES
AN automatically operating spotlight is being fitted to vehicles used by Barton Transport, Ltd., Chilwell, Notts, as a contribution to greater road safety at night.
The wiring circuit of the spotlight includes the sidelight switch and a cutout. With the sidelights switched on. the spotlight is illuminated when the coach is travelling at and above a certain speed, but is turned off by the action of the cut-out when the vehicle is at a halt and the engine is idling.