Catterick Services : A Glaring Example of Wasteful Competition"
15th February 1952
Page 34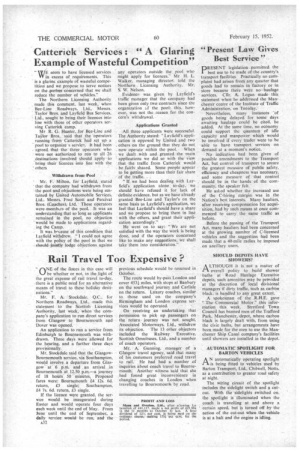 Page 34, 15th February 1952 —
Catterick Services : A Glaring Example of Wasteful Competition"
Close
" Ilf/E seem to have licensed services
• Vic in excess of requirements. This is a glarinc example of wasteful competition and we propose to serve notices on the parties concerned that we shall reduce the number of vehicles."
The Northern Licensing Authority . made this comment, last week, when Bee-Line Roadways, Ltd., Messrs. Taylor Bros. and Layfield Bus Services, Ltd., sought to bring their licences into line with those of other operators serving Catterick camp.
Mr R. G. Hunter, for Bee-Line and Tailor Bros.," said that the operators running 'from Catterick had set up a pool to organize a service: It had heir, • agreed that the three operators who were not authorized to rtin to all 26 _destinations involved should aprily to • bring their licences into line with the others Withdrawn from Pool Mr. F. Milton, for Layfield, stated • that the company had withdrawn from the pool and objections were being sustained by United Automobile Services, Ltd.. Messrs. Fred Scott and Percival Bros. (Coaches), Ltd. • These operators were membas of the pool. It was an understanding that so long as applicants remained in the pool, no objection " would be made to applications regarding the Camp. • It was b'-cause of this condition that Layfield withdrew. " I could not agree with the policy of the pool in that we should -taint* lodge objections against any operators outside the pool who might apply for licences." Mr H. L. Walker, managing director, told the Northern Licensing Authority, Mr. S. W. Nelson.
Evidence was given by Layfield's traffic manager that the company had been given only two contracts since the organization i.f the pool: this, however, was not the reason for the concern's withdrawal.
Applications Granted • All three applicants were successful. The Authority stated: " Layfielcrs application is opposed by United and two . others on the ground that they do not, • now operate within the pool. When • we dealt with and granted 'the main applications we did so with the view ' that the traffic from Catterick would . be fairly shated. Some people appear to he getting more than their fair share of the traffic. .
"If we had been dealing with Layfield's application alone to-day, ' we should have refused it for lack of definite evidence, but as we haVe already granted Bee-Line and Taylor's on the same basis as Layfield's application, we feel that Layfield's should have a share and we propose to bring them in line • with the others, and grant their appli cation accordingly." • • He went on to say: "We are not satisfied with the way the work is being done, and if the operators concerned like to make any suggestions. we shall take them into consideration."