Men in the News
15th February 1952
Page 32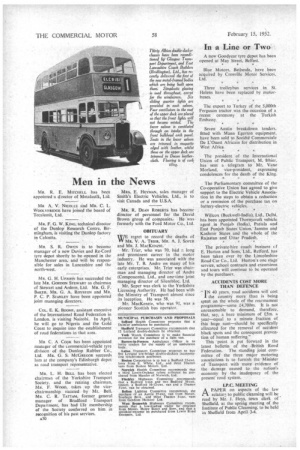 Page 32, 15th February 1952 —
Men in the News
Close
MR. R. E. MITCHELL has been appointed a director of Metalastik-, Ltd.
MR A. V. Ntc,oit_ti and MR. C. L. VVOOLVERIDGE have joined the board of Tecalemit, Ltd.
MR. F. G. W. KING, technical director of the Dunlop Research Centre, Birmingham, is visiting the Dunlop factory
in Calcutta. • MR S. R. OWEN is li3 become manager of a new Davies and Re-Cord tyre depot shortly to be opened in the Manchester area, and will be responsible for sales in Lancashire and the north-west.
MR. G. H. UPJOHN has succeeded the late MR. GORDON STEWART as chairman of Stewart and Ardern, Ltd. MR. G. F. BAKER, MR. G. A. ROYSTON and MR. P. C. P. S1ANLEY have been appointed joint managing directors.
COL E. K. BoomE, assistant executive of the International Road Federation in London, is visiting Nairobi. In April, he will go to Nigeria and the Gold Coast to inquire into the establishment of road federations in that area.
MR C. A. Coca( has been appointed manager of the commercial-vehicle tyre division of the Dunlop Rubber Co:, Ltd. MR. G. S. McGabooR succeeds him at the company's Edinburgh depot as road transport representative.
MR. L. H. BELL has been elected chairman of the Yorkshire Transport Society. and the retiring chairman, MR. F, W000, takes .up the vicechairmanship vacated by Mr. Bell. Ma. C. R. Tarram, former general manager of Bradford Transport Department, has had 1:fe membership of the Society conferred on him in recognition of his past services. .
A30
MRS. E. HEYMAN, Sales manager of Smith's Electric Vehicles, Ltd., is to visit Canada and the U.S.A.
MR. R. DEAN ROBERTS has become director of personnel for the David Brown group of companies, He was formerly with the Ford Motor Co., Ltd.
OBITUARY
WE regret to record the deaths of VV MR. V. A. TRIER, MR. A. J. SOPER and MR. J. MACKENZIE.
Mr. Trier, who was 70, had long and .prominent career in the motor industry. He was associated with the late Mr. T. R. Andre on many of his early enterprises. Mr. Trier was chairman and managing director of Andre (Components), Ltd., and one-time joint managing director of Silent bloc, Ltd.
Mr. Soper was clerk to the Yorkshire Licensing Authority. He had been with the Ministry of Transport almost since its inception. He was 58.
Mr. MacKenzie, who was 91, was a pioneer Scottish bus operator.
Tags
People
:
A. V. Ntc
,
G. H. UPJOHN
,
R. E. MITCHELL
,
G. W. KING
,
J. MACKENZIE
,
E. HEYMAN
,
G. F. BAKER
,
L. H. BELL
,
C. R. Tarram
,
S. R. OWEN
,
R. DEAN ROBERTS
,
C. A. Coca
,
A. J. SOPER
,
C. L. VVOOLVERIDGE
,
V. A. TRIER
,
T. R. Andre
,
G. S. McGabooR
,
G. A. ROYSTON