A Threat to Denationalization
15th February 1952
Page 27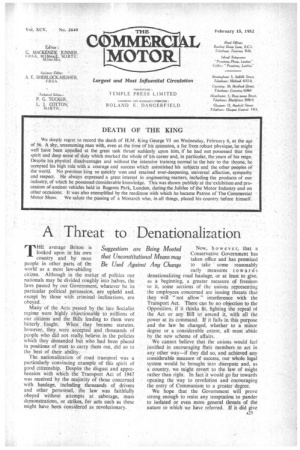 Page 28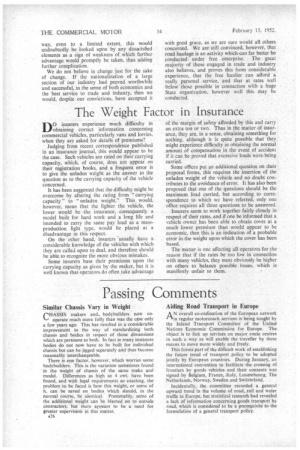 Page 27, 15th February 1952 —
A Threat to Denationalization
Close
THE average Briton is looked upon in his own country and by most people in other parts of tht world as a most law-abiding citizen. Although in the matter of politics our nationals may be divided roughly into halves, the laws passed by our Government, whatever be its particular political persuasion, are upheld and, except by those with criminal inclinations, are obeyed. , Many of the Acts passed by the late Socialist regime were highly objectionable to millions of our citizens and the. Bills leading to them were bitterly fought. When they became statutes, however, they, were accepted and thousands of people who did not really believe in the policies which they demanded but who had been placed in positions of trust to carry them out, did so to the best of their ability.
The nationalization of road transpori was a particularly convincing example of this spirit of good citizenship. Despite the disgust and apprehension with which the Transport Act of 1947 was received by the majority of those concerned with haulage, including thousands of drivers and other personnel, the law was faithfully obeyed without attempts at sabotage, mass demonstrations, or strikes, for acts such as these might have been considered as revolutionary.
Suggestions are that Unconstituti Be Used Again
Now, however, that a Conservative Government has taken office and has promised to take some reasonably early measures tow ards denationalizing road haulage, or at least to give, as a beginning, a greater measure, of freedom to it, some sections of the unions representing the employees concerned are issuing threats that they will "not allow" interference with the Transport Act. There can be no objection to the Opposition, if it thinks fit, fighting the repeal of the Act or any Bill la amend it, with all the power at its command. If it fails in this purpose and the law be changed, whether to a minor degree or a considerable extent, all must abide by the new scheme of affairs.
We cannot believe that the unions would feel justified in encouraging their members to act in any other way—if they did so, and achieved any considerable measure of success, our whole legal system would be brought into disrepute and, as a country, we might revert to the law of might rather than right. In fact it would go far towards opening the way to revolution and encouraging the entry of Communism to a greater degree.
We hope that the Government will prove strong enough to resist any temptation to pander to isolated or even more general threats of the nature to which we have referred. If it did give way, even to a limited extent, this would undoubtedly be looked upon by any dissatisfied elements as a sign of weakness of which further advantage would promptly be taken, thus adding further complication.
We do not believe in change just for the sake of change. If the nationalization of a large section of our industry had proved worthwhile and successful, in the sense of both economics and the best service to trade and industry, then we would, despite our convictions, have accepted it with good grace, as we are sure would all others concerned. We are still convinced, however, that road haulage is an activity which can far better be conducted under, free enterprise. The great majority of those engaged in trade and industry also believes, and proves this from considerable experience, that the free haulier can afford a really personal service, and that at rates W-ell below those possible in connection with a huge State organization. however well this may be conducted.