A Novel Loader for Vehicle Use
15th February 1935
Page 53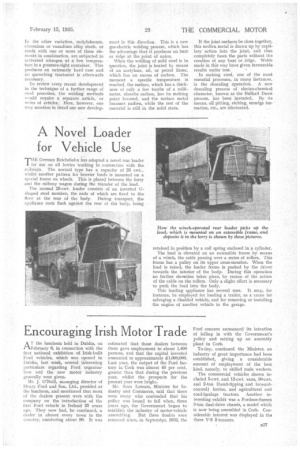 Page 53, 15th February 1935 —
A Novel Loader for Vehicle Use
Close
THE German Reichsbahn has adopted a novel rear loader for use on all lorries working in connection with the railways. The normal type has a capacity of 25 cwt., whilst another pattern for heavier loads is mounted on a special frame on wheels. This is placed between the lorry and the railway wagon during the transfer of the load.
The normal 25-cwt. loader consists of an inverted 'Tishaped steel member, the ends of which are fixed to the floor at the rear of the body. During transport, the appliance rests flush against the rear of the body, being
retained in position by a coil spring enclosed in a cylinder.
The load is elevated on an extensible frame by means of a winch, the cable passing over a series of rollers. This frame has a pulley on its upper cross-member. When the load is raised, the loader frame is pushed by the driver towards the interior of the body. During this operation no further eleviation takes place, by reason of the action of the cable on the rollers. Only a slight effort is necessary to push the load into the body.
This loading appliance has several uses. It may, for instance, he employed for loading a trailer, as a crane for salvaging a disabled vehicle, and for removing or installing the engine of another vehicle in the garage.