Road Transport Topics in Parliament
15th February 1935
Page 51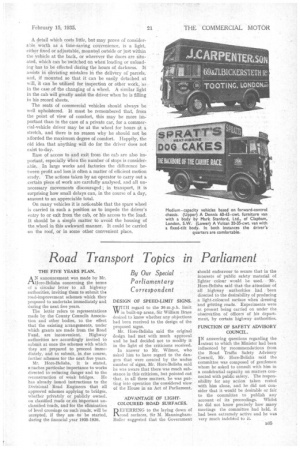 Page 51, 15th February 1935 —
Road Transport Topics in Parliament
Close
By Our Special Parliamentary Correspondent
THE FIVE YEARS PLAN.
A N announcement was made by Mr. tiklIore-Belisha concerning the terms of a circular letter to all highway authorities, inviting them to submit the road-improvement schemes which they proposed to undertake immediately and during the next five years.
The letter refers to representations made by the County Councils Association and other bodies, to the effect that the existing arrangements, under which grants are made from the Road Fund, are inconvenient. Highway authorities are accordingly invite4 to submit at Once the schemes with which they are prepared to proceed immediately, and to submit, in due course, further schemes for the next five years.
Mr. Hore-Belisha, it is stated, attaches particular importance to works directed to reducing danger and to the reconstruction of weakbridges. He has already issued, instructions to the Divisional Read Engineers that all approved schemes applying to bridges, whether privately or publicly owned, on clasified roads or On important, unclassified roads, and for the elimination of level crossings On-such roads, will he accepted, if they are to be started, during the financial year 1935-1936.
DESIGN OF SPEED-LIMIT SIGNS.
WIITH regard to the 30-ro.p.h. limit MY in built-up areas, .Sir William Brass desired to know whether any objections had been received to the design of the proposed signs.
Mr. Hare-Belisha said the original design had met with much approval and he had decided not to modify it in the light of the criticisms received.
In answer to Mr. Wilmot, who asked him to have regard to the dangers that. were created by the undue number of signS, Mr. Hore43elisha said he was aware that there was much substance in this criticism, but pointed out that, in all these matters, he was putting into operation the considered view of the House in an Act of Parliament.
ADVANTAGE OF LIGHTCOLOURED ROAD SURFACES.
REFERRING to the laying down of road surfaces, Sir M. ManningbarriBuller suggested that the Government • should endeavour to secure that in the interests of' public safety material of lighter colour would be used. --Mr. Hare-Belisha said that the attention of all highway authoritiea. had . been directed to the desirability of producing a light-coloured surface when dressing and gritting roads. Experiments were at present being carried on under the obServatiOn of Officers of his department, by certain highway authorities.
FUNCTION OF SAFETY ADVISORY COUNCIL.
I N answering questions regarding the extent to which the Minister had been influenced by recommendations from the Road Traffic Safety Advisory Council, Mr. Hore-Belisha said the committee was composed of gentlemen whom he asked to consult with him in a confidential capacity on matters connected with public safety. The responsibility for any action taken rested with him alone, and he did not consider that it would be desirable or fair to the committee to publish any account of its proceedings. Whilst he did not know precisely how many meetings the committee had held, it had been extremely active and he was very such indebted to it.