HOW THE C.M.U.A.-R.H.A. MERGER WOULD OPERATE
15th February 1935
Page 34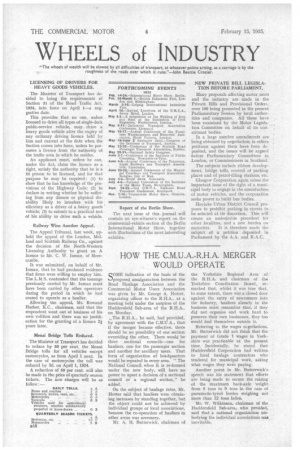 Page 34, 15th February 1935 —
HOW THE C.M.U.A.-R.H.A. MERGER WOULD OPERATE
Close
SOME indication of the basis of the )proposed amalgamation between the Road Haulage Association and the Counnercial Motor Users Association was given by Mr. George A. Hotter, organizing officer to the R.H.A., at a meeting held under the auspices of the Huddersfield Sub-area of the R,H.A., on Monday.
a The R.II.A., he said, had provided, by agreement with the C.M.U.A., that if the merger became effective, there should he no possibility of one section overriding the other. There would be three sectional councils—one for hauliers, one for the passenger section and another for ancillary users. That form of organization at headquarters would be repeated in every area. " The National Council, when it is re-formed under the new body, will have no power to upset a decision of a sectional council or a regional section," he added.
On the subject of haulage rates, Mr. Hotter said that hauliers were obtaining increases by standing together, hut the object could not be achieved by individual groups or local associations, because the co-operation of hauliers in other areas was necessary.
Mr. A. H. Elutterwiek, chairman of the Yorkshire Regional Area' of the R.H.A. and chairman of the Yorkshire Conciliation Board, remarked that, whilst it was true that, to some extent, there was a closed door against the entry of newcomers into the industry, hauliers already in the business must remember that, if they did not organize and work hard to preserve their own businesses, they too would find themselves outside it.
Referring to the wages negotiations, Mr. Butterwick did not think that the payment of Grade 1 wages in Yorkshire was practicable at• the present time. Incidentally, he stated that Huddersfield Corporation had written to local haulage contractors who tendered for municipal work, asking what wages they were paying.
. Another point in Mr. Butterwick's speech was his statement that efforts are being made to secure the raising of the maximum back-axle weight from 8 tons to 9 tons in the case of •pneumatic-tyred lorries weighing not more than 12 tons laden.
Mr. W. Wilkinson, chairman of the,.. Huddersfield Sub-area, who presided, said that a national organization embodying the individual associations was inevitable.