One Hears
15th February 1935
Page 33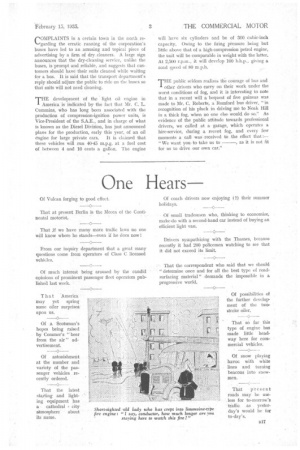 Page 33, 15th February 1935 —
One Hears
Close
Of Vulcan forging to good effect.
That at present Berlin is the Mecca of the Continental motorist.
That ,if we have many more traffic laws no one will know where he stands—even if he does now From our inquiry department that a great many questions come from operators of Class C licensed vehicles.
Of much interest being aroused by the candid pinions of prominent passenger fleet operators published last week.
That America may yet spring some oiler surprises upon us.
Of a Scotsman's hopes being raised by Cornmer's "beer from the air" advertisement.
Of astonishment at the number and variety of the passenger vehicles recently ordered.
0 That the latest starting and lighting equipment has a cathedral city aitmosiphere about its name. Of coach drivers now enjoying (7) their summer holidays.
Of small tradesmen who, thinking to economize, make-do with a second-hand car instead of buying an efficient light Van.
Drivers sympathizing with the Thames, because recently it had 200 policemen watching to see that it did not exceed its limit, That the correspondent who said that we should "determine once and for all the best type of roadsurfacing material" demands the impossible in a progressive world.
Of possibilities of the farther development of the twostroke oiler.
That so far :this type of engine has made little headway here for commercial vehicles.
" 0 Of snow playing havoc with white lines and turning beacons into snowmen.
That present roads may be useless for to-morrow's traffic as yesterday's would be for to-day's.