Cut Away the Weeds!
15th February 1935
Page 31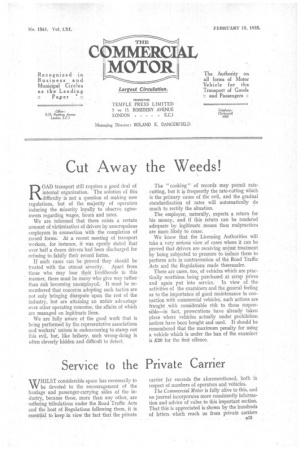 Page 31, 15th February 1935 —
Cut Away the Weeds!
Close
ROAD transport still requires a. good deal of internal organization. The solution of this difficulty is not a question of making new regulations, but of the majority of operators inducing the minority loyally to observe agreements regarding wages, hours and rates.
We are informed that there exists a certain amount of victimization of drivers by unscrupulous employers in connection with the completion of record forms. At a recent meeting of transport workers, for instance, it was openly stated that over half a dozen drivers had been discharged for refusing to falsify their record forms.
If such cases can be proved they should be treated with the utmost severity. Apart from those who may lose their livelihoods in this manner, there must be many who give way rather than risk becoming unemployed. It must be remembered that concerns adopting such tactics are not only bringing disrepute upon the rest of the industry, but are attaining an unfair advantage over other operating conceit's, the affairs of which are managed on legitimate lines.
We are fully aware of the good work that is being performed by the representative associations and workers' unions in endeavouring to stamp out this evil, but, like bribery, such wrong-doing is often cleverly hidden and difficult to detect, . The "cooking of records may permit ratecutting, but it is frequently the rate-cutting which is the primary cause of the evil, and the gradual standardization of rates will automatically do much to rectify the situation.
The employer, naturally, expects a return for his money, and if this return can be rendered adequate by legitimate means then malpractices are more likely to cease.
We know that the Licensing Authorities will take a very serious view, of cases where it can be proved that drivers are receiving unjust treatment by being subjected to pressure to induce them to perform ads in contravention of the Road Traffic Acts and the Regulations made thereunder.
There are cases, too, of vehicles which are practically worthless being purchased at scrap prices and again put into service. In view, of the activities of the examiners and the general feeling as to the importance of good maintenance in connettion with commercial vehicles, such actions are fraught with considerable risk to those responsible—in fact, prosecutions have already taken place where vehicles actually under prohibition notices have been bought and used. It should be remembered that the maximum penalty for using a vehicle which is under the ban of the examiner is 220 for the first offence.