Experimental Buses by U.S. Aircraft Maker
15th December 1944
Page 25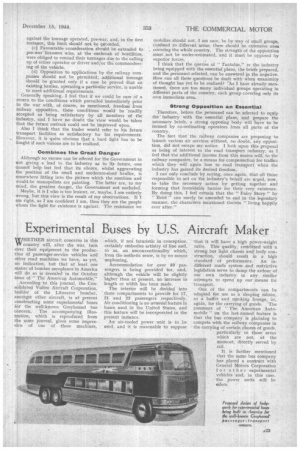 Page 25, 15th December 1944 —
Experimental Buses by U.S. Aircraft Maker
Close
WHETHER aircraft concerns in this VII country will, after the war, turn over their equipment to the production of passenger-service vehicles and other road machines we have, as yet, no indication, but that at least one maker of bomber aeroplanes in America will do so is revealed in the October issue of "The American Automobile."
According to this journal, the Consolidated Vultee Aircraft Corporation, builder of the Liberator bomber, amongst other aircraft, is at present constructing some experimental buses for the well-known Greyhound bus concern. The accompanying illustration, which is reproduced from the same journal, gives some impres-• sion of one of these machines, which, if not futuristic in conception, certainly embodies artistry of line and, to us, an unconventionality which, " from the xsthetic sense, is by no means unpleasing.
Accommodation for over 50 passengers is being provided for, and, although the vehicle will be slightly higher than at present, no increase in length or width has been made.
The interior will be divided into three compartments to provide for 17. 21 and 23 passengers respectively. Air conditioning is no unusual feature in buses used in the United States, and this feature will be incorporated in the present instance.
An air-cooled power unit is to be used, and it is reasonable to suppose that it will have a high power-weight ratio. This quality, combined with a strong but light chassis and body construction, should result in a high standard of performance. An indifferent roads system and restrictive legislation serve to damp the ardour of our own industry in any similar attempts to speed up our means for 'transport.
One of the compartments can be adapted for use as a sleeping saloon, as a buffet and smoking lounge, or, again, for the carrying of goods. The comment of " The American Automobile " on the last-named feature is that the bus company is planning to compete with the railway companies in the carrying of certain, classes of goods,
particularly to those areas
which are not, at the
Moment, directly served by rail.
It is further mentioned that the same bus Company has placed a contract with General Motors Corporation or other experimental vehicles and, in this case. the power units will be oilers. •