Bus Body Maker Produces Mobile Churches
15th December 1944
Page 23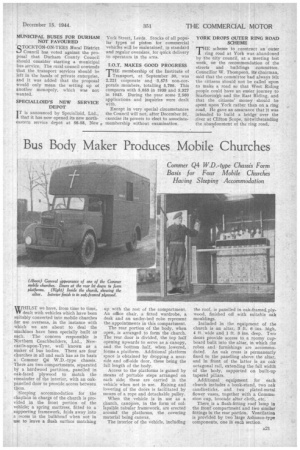 Page 23, 15th December 1944 —
Bus Body Maker Produces Mobile Churches
Close
Commer Q4 W D.-type Chassis Form Basis for Four Mobile Churches Having Sleeping Accommodation
WHILST we have, from time to time,. W dealt with vehicles which have been suitably converted into mobile churches for use overseas, in the instance with which we are about to deal the machines have been specially built as such. The concern responsible is Northern Coachbuilders, Ltd., Newcastle-upon-Tyne, well known as a maker of bus bodies. There are four churches in all and each has as its basis a Commer Q4 W.D.-type chassis. There are two compartments, separated by a hardwood partition, panelled in oak-faced plywood to match the remainder of the interior, with an oakpanelled door to provide access between them.
Sleeping accommodation for the chaplain in charge of the church is provided in the front portion of the vehicle; a spring mattress, fitted to a supporting framework, folds away into a recess in the bulkhead when not in use to leave a Hush surface matching up with the rest of the compartment. An office chair, a fitted wardrobe, a desk and an under-bed robe represent the appointments in this compartment.
The rear portion of the body, when open, is arranged to form the church. The rear door is divided, the top half opening upwards to serve as a canopy, and the bottom half, when lowered, forms a platform. Additional platform space is obtained by dropping a nearside and off-side door, these being the full length of the body.
Access to the platforms is gained by means of portable steps arranged on each side; these are carried in the vehicle when not in use. Raising and lowering of the doOrs is facilitated by means of a rope and detachable pulley.
When the vehicle is in use as a church, canopies, in the form of collapsible tubular framework, are erected around the platforms, the covering material being canvas.
The interior of the vehicle, including the roof, is panelled in oak-framed. plywood. finished off with suitable oak mouldings.
Included in the equipment of the church is an altar, 3 ft. 6 ins. high, 4 ft. wide and 1 ft. 3 ins. deep. Two doors provide access to a roomy cupboard built into the altar, in which the robes and furnishings are accommodated. An oak cross is permanently fixed to the panelling above the altar, and in front of the latter is an oak octagonal rail, extending the full width of the body, supported on built-up tapered pillars.
Additional equipment for each church includes a book-stand, two oak candlesticks, and two plated-metal flower vases, together with a Communion cup, brocade altar cloth, etc.
There is a flush-fitting roof lamp in the front compartment and two similar fittings in the rear portion. Ventilation is provided by two large Ashanco-type components, one in each section.