Cycle highway gets cautious welcome
15th August 2013
Page 7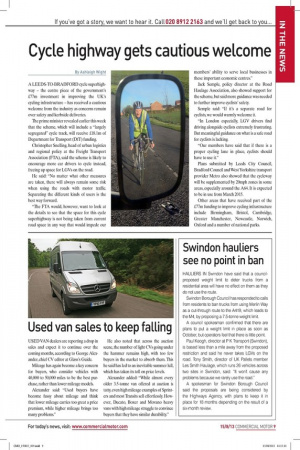 Page 7, 15th August 2013 —
Cycle highway gets cautious welcome
Close
By Ashleigh Wight
A LEEDS-TO-BRADFORD cycle superhighway — the centre piece of the government's £77m investment in improving the UK's cycling infrastructure — has received a cautious welcome from the industry as concerns remain over safety and kerbside deliveries.
The prime minister revealed earlier this week that the scheme, which will include a "largely segregated" cycle track, will receive £18.1m of Department for Transport (DfT) funding.
Christopher Snelling, head of urban logistics and regional policy at the Freight Transport Association (FTA), said the scheme is likely to encourage more car drivers to cycle instead, freeing up space for LGVs on the road.
He said: "No matter what other measures are taken, there will always remain some risk when using the roads with motor traffic. Separating the different kinds of users is the best way forward. "The FTA would, however, want to look at the details to see that the space for this cycle superhighway is not being taken from current road space in any way that would impede our
members' ability to serve local businesses in these important economic centres."
Jack Semple, policy director at the Road Haulage Association, also showed support for the scheme, but said more guidance was needed to further improve cyclists' safety.
Semple said: "If it's a separate road for cyclists, we would warmly welcome it.
"In London especially, LGV drivers find driving alongside cyclists extremely frustrating. But meaningful guidance on what is a safe road for cyclists is lacking.
"Our members have said that if there is a proper cycling lane in place, cyclists should have to use it."
Plans submitted by Leeds City Council, Bradford Council and West Yorkshire transport provider Metro also showed that the cycleway will be supplemented by 20mph zones in some areas, especially around the A64. It is expected to be in use from March 2015.
Other areas that have received part of the £77m funding to improve cycling infrastructure include Birmingham, Bristol, Cambridge, Greater Manchester, Newcastle, Norwich, Oxford and a number of national parks.