Farmer fined for allowing waste dumping
15th August 2013
Page 20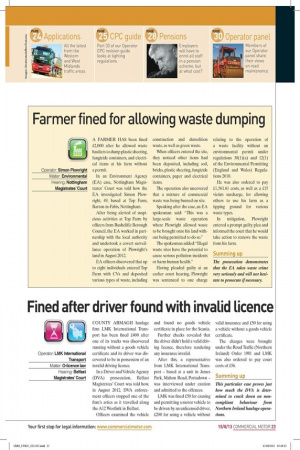 Page 20, 15th August 2013 —
Farmer fined for allowing waste dumping
Close
Operator: Simon Plowright Matter: Environmental Hearing: Nottingham Magistrates' Court
A FARMER HAS been fined £2,000 after he allowed waste hauliers to dump plastic sheeting, fungicide containers, and electrical items at his farm without a permit.
In an Environment Agency (EA) case, Nottingham Magistrates' Court was told how the EA investigated Simon Plowright, 49, based at Top Farm, Barton-in-Fabis, Nottingham.
After being alerted of suspicious activities at Top Farm by officers from Rushcliffe Borough Council, the EA worked in partnership with the local authority and undertook a covert surveillance operation of Plowright's land in August 2012. EA officers discovered that up to eight individuals entered Top Farm with CVs and deposited various types of waste, including
construction and demolition waste, as well as green waste.
When officers entered the site, they noticed other items had been deposited, including soil, bricks, plastic sheeting, fungicide containers, paper and electrical items.
The operation also uncovered that a mixture of commercial waste was being burned on site.
Speaking after the case, an EA spokesman said: "This was a large-scale waste operation where Plowright allowed waste to be brought onto his land without being permitted to do so."
The spokesman added: "Illegal waste sites have the potential to cause serious pollution incidents or harm human health." Having pleaded guilty at an earlier court hearing, Plowright was sentenced to one charge
relating to the operation of a waste facility without an environmental permit under regulations 38(1)(a) and 12(1) of the Environmental Permitting (England and Wales) Regulations 2010.
He was also ordered to pay £1,561.61 costs, as well as a £15 victim surcharge, for allowing others to use his farm as a tipping ground for various waste types.
In mitigation, Plowright entered a prompt guilty plea and informed the court that he would take action to remove the waste from his farm. Summing up
The prosecution demonstrates that the EA takes waste crime very seriously and will not hesitate to prosecute if necessary.