Williams trailer dispute results in driver lay-offs
15th August 1996
Page 8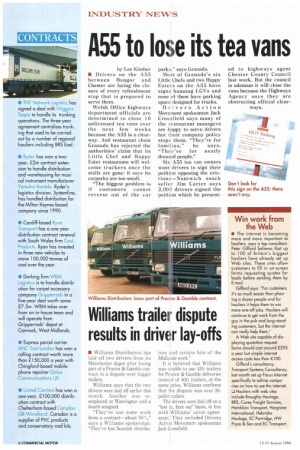 Page 8, 15th August 1996 —
Williams trailer dispute results in driver lay-offs
Close
• Williams Distribution has laid off two drivers from its Manchester depot after losing part of a Proctor & Gamble contract in a dispute over bigger trailers.
Williams says that the two drivers were laid off earlier this month. Another was reemployed at Warrington and a fourth resigned.
"They've lost some work from a contract—about 50%," says a Williams spokesman. "They've lost Scottish distribu tion and certain bits of the Midlands work."
• It is believed that Williams was unable to use 45ft trailers for Proctor & Gamble deliveries instead of 40ft trailers, at the same price. Williams confirms that the dispute was over 26pallet trailers.
The drivers were laid off on a "last in, first out" basis, in line with Williams' union agreement. They included Drivers Action Movement spokesman Jack Crossfield.