Truck causes bomb alert
15th August 1996
Page 7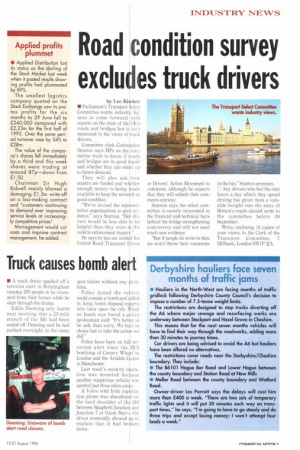 Page 7, 15th August 1996 —
Truck causes bomb alert
Close
• A truck driver sparked off a terrorist alert in Birmingham causing 200 people to be evacuated from their homes while he slept through the drama.
Eddie Deeming only learnt next morning that a 25-mile stretch of the M6 had been sealed off. Deeming said he had parked overnight in the same spot before without any problems.
Police feared the veh. could contain a bomb and in Army bomb disposal exi who blew open the cab. \iN no bomb was found a pt.. spokesman said: "It's better to be safe than sorry. We had ro choice but to take the action v did."
Police have been on full :Li rorism alert since the IRA bombing of Canary Wharf in London and the Arndale Centre in Manchester.
Last week's security operation was mounted becau-ti another suspicious vehicle spotted just three miles away.
A Volvo with Irish regi-• tion plates was abandone( the hard shoulder of the N11 between Spaghetti Junction Junction 7 at Great Barr driver eventually showed up explain that it had broken down.