Eight days a week
15th August 1996
Page 21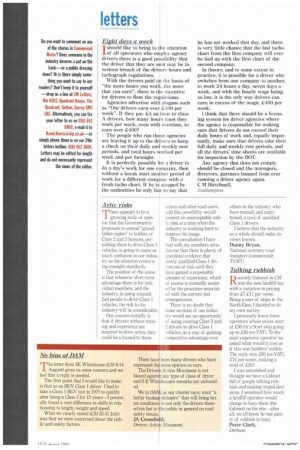 Page 21, 15th August 1996 —
Eight days a week
Close
Ishould like to bring to the attention of all operators who employ agency drivers there is a good possibility that the driver that they are sent may be in serious breach of the drivers hours and tachograph regulations.
With the drivers paid on the basis of "the more hours you work, the more that you earn", there is the incentive for drivers to flout the regulations.
Agencies advertise with slogans such as "Our drivers earn over £400 per week". If they pay £4 an hour to class A drivers, how many hours must they work per week, even with overtime, to earn over £400?
The people who run these agencies are leaving it up to the drivers to keep a check on their daily and weekly rest periods, and total hours worked per week and per fortnight.
It is perfectly possible for a driver to do a day's work for one company, then without a break start another period of work for a different company with a fresh tacho chart. If he is stopped by the authorities he only has to say that he has not worked that day, and there is very little chance that the last tacho chart from the first company will ever be tied up with the first chart of the second company.
In theory, and to some extent in practice, it is possible for a driver who switches from one company to another, to work 24 hours a day, seven days a week, and with the hourly wage being so low, it is the only way drivers can earn in excess of the magic £400 per week.
I think that there should be a licensing system for driver agencies where the agency is responsible for making sure that drivers do not exceed their daily hours of work and, equally importantly, make sure that drivers take their full daily and weekly rest periods, and all the drivers' time sheets are available for inspection by the DOT.
Any agency that does not comply should be closed and the managers, directors, partners banned from ever running a driver agency again, C M Birtchnell, Southampton.