An Opening for Char-a-Bancs Services.
15th August 1912
Page 6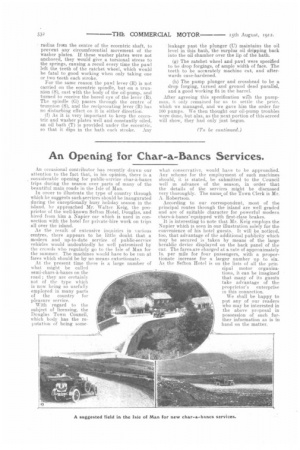 Page 6, 15th August 1912 —
An Opening for Char-a-Bancs Services.
Close
An occasional contributor has recently drawn our attention to the fact that, in his opinion, there is a considerable opening for public-service char-a-bancs trips during the season over parts of many of the beautiful main roads in the Isle of Man.
In oroer to illustrate the type of country through which he suggests such services should be inaugurated during the exceptionally busy holiday season in the island, he approached Mr. Walter Keig, the proprietor of the well-known Sefton Hotel, Douglas, and hired from him a Napier car which is used in connection with the hotel for private-hire work on trips all over the island.
As the result of extensive inquiries in various centres, there appears to be little doubt that a modern and up-to-date service of public-service vehicles would undoubtedly be well patronized by the crowds who regularly go to the Isle of Man for the summer. The machines would have to be run at fares which should be by no means extortionate.
At the present time there is a large number of what might be called semi-chars-à-bancs on the road ; they are certainly not of the type which is now being so usefully employed in many parts of the country for pleasure service. With regard to the subject of licensing, the Douglas Town Council, which body has the reputation of being some what conservative, would have to be approached. Any scheme for the employment of such machines should, it is stated, be submitted to the Council well in advance of the season, in order that the details of the services might be discussed very thoroughly. The name"of the Town Clerk is Mr. A. Robertson.
According to our correspondent, most of the principal routes through the island are well graded and are of suitable character for powerful modern chars-k-bancssequipped with first-class brakes. It is interesting to note that Mr. Keig employs the Napier which is seen in our illustration solely for the convenience of his hotel guests. It will be noticed, too, that advantage of the additional publicity which may be secured is taken by means of the large heraldic device displayed on the back panel of the car. The fares-are charged at a rate of approximately Is. per mile for four passengers, with a proportionate increase for a larger number up to six. As the Sefton Hotel is on the lists of all the prin. cipal motor organiza tions, it can be imagined that many of its guests take advantage of the proprietor's enterprise in this connection.
We shall be happy to put any of our readers who may be interested in the above proposal in possession of such further information as is in hand on the matter.