Answers to Queries.
15th August 1912
Page 18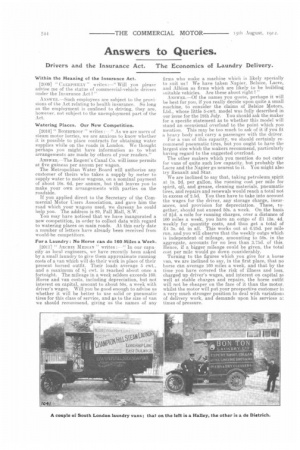 Page 18, 15th August 1912 —
Answers to Queries.
Close
Drivers and the Insurance Act. The Economics of Laundry Delivery.
Within the Meaning of the Insurance Act.
[2009] " CAERPHILLY writes :—" Will you please advise me of the status of commercial-vehicle drivers under the Insurance Act ?
ANswEP..—Such employees are subject to the provisions of the Act relating to health insurance. So long as the employment is confined to driving, they are. however, not subject. to the unemployment part of the Act.
Watering Places. Our New Competition.
[2010] " BOMBPROOF " writes : " As we are users of steam motor lorries, we are anxious to know whether it is possible to place contracts for obtaining water supplies while on the roads in London. We thought perhaps you might have information as to what arrangements are made by others of your readers."
ANswkat.--The Regent's Canal Co. will issue permits at five guineas per annum per wagon.
The Metropolitan Water Board will authorize any customer of theirs who takes a supply by meter to supply water to motor wagons, on a nominal payment of about 10s. 6d. per annum, but that leaves you to make. your own arrangements with parties on the roadside.
If you applied direct to the Secretary of the Corn.. mercial Motor Users Association, and gave him the road which your wagons used, we daresay he could help you. The address is 89, Pall Mali, S.W. You may have noticed that we have inaugurated a new competition, in order to collect data with regard to watering places on main roads. At this early date a number of letters have already been received from would-be competitors.
For a Laundry : No Horse can do 160 Miles a Week.
[2011] " ARCHIE MEDIAN" writes :-" In our capa city as local engineers, we have recently been asked by a small laundry to give them approximate running costa of a van which will do their work in place of their present horsed outfit. Their loads average 5 cwt., and a maximum of Sh cwt. is reached about once a fortnight. The mileage in a week seldom exceeds 160. Horse and van costs, including depreciation, but not interest on capital, amount to about 50s. a week with driver's wages. Will you be good enough to advise us whether it will be better to use solid or pneumatic tires for this class of service, and as to the size of van we should recommend, giving us the names of any
firms who make a machine which is likely specially to suit us ? We have taken Napier, Belsize, Lacre, and Albion as firms which are likely to be building suitable vehicles. Are these about right ? "
AwswER.—Of the names you quote, perhaps it will be best for you, if you really decide upon quite a small machine, to consider the claims of Belsize Motors, Ltd., whose little 5-cwt. model was fully described in our issue for the 18th July. You should ask the maker for a specific statement as to whether this model will stand an occasional overload to the point which you mention. This may be too much to ask of it if you fit a heavy body and carry a passenger with the driver. For a van of this capacity, we should certainly recommend pneumatic tires, but you ought to have the largest size which the makers recommend, particularly having regard to the suggested overload.
The other makers which you mention do not cater for vans of quite such low capacity, but probably the Lacre and the Napier go nearest to it. You might also try Renault and Star.
We are inclined to say that, taking petroleum spirit at is. 2d. per gallon, the running cost per mile for spirit, oil, and grease, cleaning materials, pneumatic tires, and repairs and renewals would reach a total not in excess of 2.5d. You then have to take into account the wages for the driver, any storage charge, insurances, and provision for depreciation. These, together, should not exceed 50s. a week. On the basis of 2id. a mile for running charges, over a distance of 160 miles a week, you have an outgo of Li 13s. 4d. weekly for quantity costs, and thus get a total of 1:4 3s. 4d. in all. This works out at 6.25d. per mile run, and you will observe that the weekly outgo which is independent of mileage, amounting to 50s. in the aggregate, accounts for no less than 3.75d. of this. Hence, if a bigger mileage could be given, the total cost per mile would go down considerably. Turning to the figures which you give for a horse van, we are inclined to say, in the first place, that no horse can average 160 miles a week, and that by the time you have covered the risk of illness and loss, charged up driver's wages, and interest on capital as well ag stable charges and repairs, the horse outfit will not be cheaper on the face of it than the motor. whilst the motor will put your prospective customer in a very much stronger position to deal with variations of delivery work, and demands upon his services at times of pressure.