No Relegation for Everton!
15th April 1955
Page 62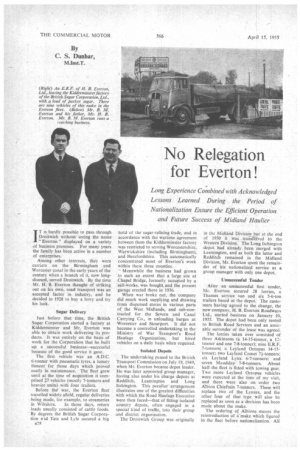 Page 65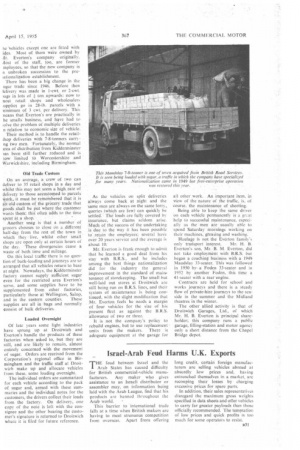 Page 62, 15th April 1955 —
No Relegation for Everton!
Close
By C. S. Dunbar, M.Inst.T.
Long ZIrperience Combined with Acknowledged Lessons Learned During the Period of Nationalization Ensure the Efficient Operation and Future Success of Midland Haulier
IT is hardly possible to pass through Droitwich without seeing the name " Everton" displayed on a variety of business premises. For many years the family has been active in a number of enterprises.
Among other interests, they were carriers on the Birmingham and Worcester canal in the early years of the century when a branch of it, now longdisused, served Droitwich. By the time Mr. H. B. Everton thought of striking out on his own, road transport was an accepted factor in industry, and he decided in 1928 to buy a lorry and try his luck.
Sugar Delivery Just before that time, the British Sugar Corporation started a factory at Kidderminster and Mr. Everton was able to obtain work delivering its products. It was entirely on the basis of work for the Corporation that he built up a successful business—successful because of the good service it gave.
The first vehicle was an A.D.C. 6-ionner with pneumatic tyres, a luxury fitment for those days which proved costly in maintenance. The fleet grew until at the time of acquisition it comprised 27 vehicles (mostly 7-tonners and heavier units) with four trailers.
Before tW war, the Everton fleet travelled widely afield, regular deliveries being made, for example, to creameries in Wiltshire. In those days, return loads usually consisted of cattle foods. " By degrees the British Sugar Corporation a Id Tate and Lyle secured a big a2/1
hold of the sugar-refining trade, and in accordance with the wartime agreement between them the Kidderminster factory was restricted to serving Worcestershire, Warwickshire (including Birmingham), and Herefordshire. This automatically concentrated most of Everton's work within these three counties.
Meanwhile the business had grown to such an extent that a large site at Chapel Bridge, formerly occupied by a 'salt-works, was bought and the present garage erected there in 1936.
When war broke out, the company did much work supplying and drawing from dispersed stores in various parts of the West Midlands, and sub-contracted for the Severn and Canal Carrying Co., in unloading barges at Worcester and Stourport. It did not become a controlled undertaking in the Ministry of War Transport's Road Haulage Organization, but hired vehicles on a daily basis when required.
Isolated Depots The undertaking passed to the British Transport Commission on July 19, 1949, when Mr. Everton became depot leader. He was later appointed group manager, having also under his charge defiots at Redditch, Leamington and Long Itchington. This peculiar arrangement illustrates one of the greatest difficulties with which the Road Haulage Executive were then faced—that of fitting isolated country depots, often engaged in a special kind of traffic, into their group and district organization.
The Droitwich Group was originally in the Midland Division but at the end of 1950 it was traistikred to the Western Division. The Long ltchington depot had already been merged with Leamington, and as both the latter and Redditch remained in the Midland Division, Mr. Everton spent the remainder of his nationalized service as a group manager with only one depot.
Unsuccessful Tender After an unsuccessful first tender, Mr. Everton secured 28 lorries, a Thames service van and six 5-6-ton trailers based at the depot. The customers having agreed to the change, the new company, H. B. Everton Roadways Ltd., started business on January 10, 1955. The depot had been only rented to British Road Services and an amicable surrender of the lease was agreed.
The lorries taken over consisted of three Atkinsons (a 14-15-tonner, a 12tonner and one 7-8-tonner); nine E.R.F. 7-tonners; a Leyland Octopus 14-15tonner; two Leyland Comet 71-tonners; six Leyland Lynx6-7-tonners; and seven Maudslay 7-8-tonners. About half the fleet is fitted with towing gear. Two more Leyland Octopus vehicles were expected at the time of my visit, and there were also on order two Albion Chieftain 7-tonners. These will replace two of the Lynxes, and the other four of that type will also be replaced as soon as a decision has been made about the make.
The ordering of Albions means the reintroduction of a make which figured
in the fleet before nationalization. All
se 'vehicles except one are fitted with ides. Most of them were owned by Everton's company originally. /lost of the staff, too, are former mployees, so that the new company is a unbroken succession to the prelationalization establishment.
There has been a big change in the ttgar trade since 1946. Before then lelivcry was made in 1-cwt. or 2-cwt. sags in lots of ton upwards: now to nost retail shops and wholesalers .upplies go in 28-1b. parcels with a ninimurn of 3 cwt. per delivery. This neans that Everton's are practically in he smallS business, and hive had to ;olve the problem of multiple deliveries is relation to economic size of vehicle.
Their method is to handle the retailhop deliveries with 7-8-lonners carryng two men. Fortunately, the normal trea of distribution, from Kidderminster las been still further reduced and is low limited to Worcestershire and Warwickshire, including Birmingham.
Old Trade Custom
On an average, a crew of two can deliver to 35 retail shops in a d.ay and whilst this may not .seem a high.rate of delivery to those accustomed to parcels work, it must be remembered that it is an old custom of the grocery trade that goods shall be put where the customer wants them; this often adds to the time
spent at a shop.
Another snag is that a number of grocers chooses to close on A. ditrerc4 half-day from the rest of the town in which they live, whilst other small shops are open only at certain hours of the day. These divergencies cause a waste of both time and mileage.
On this local traffic-there is no question of back-loading and journeys are so arranged that all vehicles return to base at night. Nowadays, the Kidderminster factory cannot supply sufficient sugar even for the restricted area Everton's serve, and some supplies have to be supplemented from other factories, particularly those at Wellington, Salop, and in the eastern counties. These supplies arc all in bags and normally consist of bulk deliveries.
Loaded Overnight
or late years some light industries have sprung up at Droitwich and Everton's handle the products of these factories when asked to, but they are still, and arc likely to remain, almost entirely concerned with the movement of sugar. Orders are received from the Corporation's regional office in Birmingham and the traffic staff at Droitwich make up and allocate vehicles from these, some loading overnight.
The individual orders are summarized for each vehicle according to the pack of sugar and, armed with these summaries and the individual notes for the customers, the drivers collect their loads from the factory. On delivery, one copy of the note is left with the consignee and the other bearing the customer's signature is returned to Droitwich where it is filed for future reference.
As the vehicles on split deliveries always come back at night and the same men are always on the same lorry, queries .(which are few) can quickly he settled. The loads are full) covered by insurance, hut claims seldom arise. Much of the success of the undertaking is due to the way it has been possible to retain the employees; several basic over 20 years service and the average is about 10.
Mr. Everton is frank enough to admit that he learned a good deal from his stay with B.R.S., and he includes among the best things nationalization did for the industry the general improvement in the standard of main, tenance of storekeeping. The small but well-laid out stores at Droitwich are still being run on B.R.S. lines, and their system of maintenance is being continued, with the slight modification that Mr. Everton feels he needs a margin of four vehicles for the size of his present fleet as against the B.R.S. allowance of two or three.
It is not the company's policy to rebuild engines, but to use replacement units from the makers. There is adequate equipment at the garage for all other work. An important item. in view of the nature of the traffic, is, of course, the maintenance of sheeting.
Being able to keep the same driver on each vehicle perinanentlY is a ercat -help to successful maintenance, especially as the men are usually able to spend Saturday mornings working on their machines, greasing and washing.
Haulage is not the Everton family's
only trarkport interest. Mr. H. B. Everton's son, Mr.. B. M. Everton, did not take employment with B.R.S. but began a coaching business with a. 1949 Maudslay 33-seater. This was followed in 1950 by a Foden 33-seater and in 1952 by another Foden, this time a 41-seater with a rear engine.
Contracts are held for school and works journeys and there is .a steady flow of private-hire journeys to the seaside in the summer and the Midland theatres in the winter.
The other allied activity is that of Droitwich Garages, Ltd., of which Mr. H. B. Everton is principal shareholder; this company runs a public garage, filling-station and motor agency only a short distance from the Chapel Bridge depot.