Flashing Indicators Not Misleading
15th April 1955
Page 61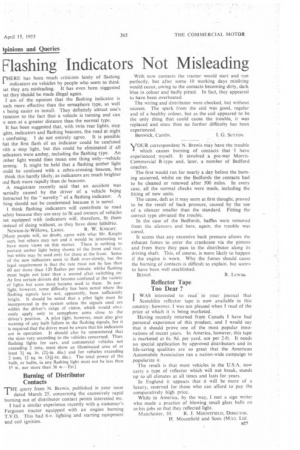 Page 61, 15th April 1955 —
Flashing Indicators Not Misleading
Close
)pinions and Queries
['HERE has been much criticism lately of flashing indicators on vehicles by people who seem to think iat they are misleading. It has even been suggested iat they should be made illegal again.
I am of the opinion that the flashing indicator is Rich more effective than the semaphore type, as well s being easier to install. They definitely attract one's ttention to the fact that a vehicle is turning and can ,e seen at a greater distance than the normal type.
It has been suggested that, with twin rear lights, stop ;ghts, indicators and flashing beacons, the road at night i confusing. I do not entirely agree. It is possible hat the first flash of an indicator could be confused vith a stop light, but this could he eliminated if all ndicators were amber, including the flashing type. An .mber light would then mean one thing only—vehicle urning. It might be held that a flashing amber light :ould be confused with a zebra-crossing beacon, but think this hardly likely, as indicators are much brighter Ind flash more rapidly than do beacons.
A magistrate recently said that an accident was mrtially caused by the driver of a vehicle bejng iistracted by the " novelty " of a flashing indicator. A hing should not be condemned because it is novel. think flashing indicators will contribute to road ;afety because they are easy to fit and owners of vehicles lot equipped with indicators will, therefore, fit them rtstead of doing without, as they have done hitherto.
Newton-le-Willows, Lancs. R. W. KNIGHT.
[Many people will, no doubt, agree with what Mr. Knight says, but others may not and it would be interesting to have more views on this matter. There is nothing to prevent amber light being shown td the front and rear, but white may be used only for those at the front. Some of the new indicators seem to flash over-slowly, but the legal requirement is that the rate must not be less than 60 nor more than 120 flashes per minute, whilst flashing must begin not later than a second after switching on. At first certain drivers did become confused at the variety of lights but soon most became used to them. In sunlight, however. some difficulty has been noted where the flashing signals have not, apparently, been sufficiently bright. It should be noted that a pilot light must be incorporated in the system unless the signals used are within the driver's range of vision, which would obviously apply only to semaphore arms close to the drivers position. A pilot light, however, must also give warning of any bulb failure in the flashing signals, for it is required that the driver must be aware that his indicators are in operation. It should also he remembered that the sizes vary according to the vehicles concerned. Thus, flashing lights for cars, and commercial vehicles not exceeding 2 tons, must show an illuminated area of at least 3ksq. in. (2k-in. dia.) and for vehicles exceeding 2 tons, 12 sq. in. (311-in. dia.). The total power of the bulb, or bulbs, in any flashing light must not be less than 15 Wt., nor more than 36 w.— ED.]
Burning of Distributor Contacts
THE query from N. Brewis, published in your issue 'THE March 25, concerning the excessively rapid burning out of distributor contact points interested me.
I had a similar experience recently with a customer's Ferguson tractor equipped with an engine burning T.V.O. This had 6-v. lighting and starting equipment and coil ignition.
With new contacts the tractor would start and run perfectly, but after some 10 working days misfiring would occur, owing to the contacts becoming dirty, dark blue in colour and badly pitted. In fact, they appeared to have been overheated.
The wiring and distributor were checked, but without success. The spark from the coil was good, regular and of a healthy colour, but as the coil appeared to be the only thing that could cause the trouble, it was replaced and since then no further difficulty has been experienced.
Benwick, Cambs. I. G. SUTTON.
VOUR correspondent N. Brewis may have the trouble I which causes burning of contacts that I have experienced myself. It involved a pre-war MorrisCommercial R-type and, later, a number of Bedford coaches.
The first would run for nearly a day before the burning occurred, whilst on the Bedfords the contacts had to be cleaned or renewed after 500 miles. In every case, all the normal checks were made, including the fitting of new units.
The cause, daft as it may seem at first thought, proved to be the result of back pressure, caused by the use of a silencer smaller than the standard. Fitting the correct type obviated the trouble.
In the case of the Bedfords, baffles were removed from the silencers and here, again, the trouble was cured.
It seems that any excessive back pressure allows the exhaust fumes to enter the crankcase via the pistons and from there they pass to the distributor along its driving shaft. This, of course, is more likely to happen if the engine is worn. Why the fumes should cause the burning of contacts is difficult to explain, but seems to have been well established.
Bristol. R. LEWIS.
Reflector Tape Too Dear ?
WAS interested to read' in your journal that Scotchlite reflector tape is now available in this country: however, I was not pleased when I read of the price at which it is being marketed.
Having recently returned from Canada I have had personal experience of this product, and I would say that it should prove one of the most popular innovations of recent years. In America, however, this tape is marketed at 6s. 9d, per yard, not per 2-ft. It needs no special application by approved distributors and its life-saving qualities are so great that the American Automobile Association ran a nation-wide campaign to popularize it.
The result is that most vehicles in the U.S.A. now carry a type of reflector which will not break, stands up to all climates at all times and lasts for years.
In England it appears that it will be more of a luxury, reserved for those who can afford to pay the comparatively high price.
While in America, by the way, I met a sign writer who made a practice of blowing small glass balls on to his jobs so that they reflected light.
Manchester, 10. R. J. MOUNTFIELD, DIRECTOR. if Mountfield and Sons (M/c), Ltd.