mprovements in Refuse Collector Design
15th April 1955
Page 47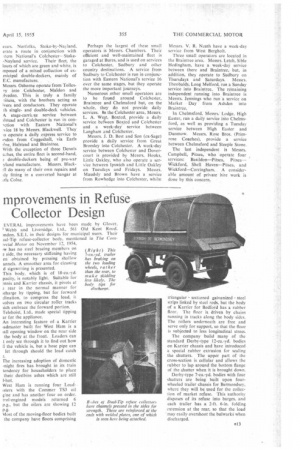 Page 47, 15th April 1955 —
mprovements in Refuse Collector Design
Close
This body, which is of 18-cu.-yd. pacity, is notably tight. Suitable for :nnis and Karrier chassis, it pivots at rear in the normal manner for ;charge by tipping, but for forward slination, to compress the load, it volves on two circular roller tracks lich embrace the forward portion, Telehoist, Ltd., Made special tipping ar for the appliance.
An interesting feature of a Karrier
■ admaster built for West Ham is a all opening window on the near side the body at the front. . Loaders can t only see through it to find out how Li the vehicle is, but a hose pipe can let through should the load catch
The increasing adoption of domestic -night fires has brought in its train tendency for householders to place their dustbins ashes which are still I-hot.
West Ham is running four LoadLsters with the Commer 1S3 oil tine and has another four on order. trol-engined models returned 6 pg., but the oilers are showing 12 pg.
14ost of the moving-floor bodies built the company have floors comprising triangular sectioned galvanized steel strips linked by steel rods, but the body of a Karrier for Bedford has a rubber floor. The floor is driven by chains running in tracks along the body sides. The rollers underneath are free and serve only for support, so that the floor is subjected to less longitudinal stress.
The company build many of the standard Derby-type 12-cu.-vd. bodies on Karrier chassis and have introduced a special rubber extrusion for sealing the shutters. The upper part of the cross-section is cellular and allows the rubber to lap around the bottom flange of the shutter when it is brought down.
Derby-type 7-cu.-yd. bodies with four shutters are being built upon fourwheeled trailer chassis for Bermondsey, where they will be used for the collection of market refuse. This authority disposes of its refuse into barges, and each trailer has a 2-ft. 6-in, folding extension at the rear, so that the load ' may easily overshoot the bulwarks when discharged.