Irequeney Changes for Radio Users
15th April 1955
Page 41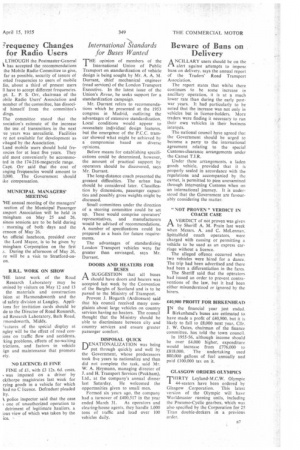 Page 41, 15th April 1955 —
Irequeney Changes for Radio Users
Close
LTHOUGH the Postmaster-General has accepted the recommendations the Mobile Radio Committee to give, far as possible, security of tenure of otted frequencies to users of mobile lie), about a third of present users II have to accept different frequencies. pt. L. P. S. Orr, chairman of the obile Radio Users' Association and nember of the committee, has dissocixi himself from the committee's dings.
The committee stated that the sociation's estimate of the increase the use of transmitters in the next -ee years was unrealistic. Facilities re not available for development as vitaged by the Association.
Land mobile users should hold freencies for at least five years. They uld most conveniently be accommoted in the 174-216-megacycle range. Capt. Orr said that the cost of Inging frequencies would amount to ),000. The Government should ike compensation.
MUNICIPAL MANAGERS' MEETING
'HE annual meeting of the managers' section of the Municipal Passenger Import Association will be held in mingham on May 25 and 26. siness sessions are to be held during morning of both days and the crnoon of May 26.
fsn official luncheon, presided over the Lord Mayor, is to be given by mingham Corporation on the first During the afternoon of May 26, re will be a visit to Stratford-onon.
R.R.L. WORK ON SHOW
'HE latest work of the Road
Research Laboratory may be 'mined by visitors on May 12 and 13 the materials and construction ision at Harmondsworth and the id safety division at Langley. Appliions for invitation cards should be de to the Director of Road Research, ad Research Laboratory, Bath Road, rmondsworth, Middx.
:eatures of the special display at ngley will be the effect of road conions on traffic flow and accidents, icing problems, effects of no-waiting trictions, and factors in vehicle ign and maintenance that promote ety.
NO LICENCE: LI FINE
FINE of El, with £3 12s. 6d. costs,
was imposed on a driver by ekthorpe magistrates last week for rying goods in a vehicle for which had no C licence. Defendant pleaded Ity.
k police inspector said that the case
one of unauthorized operation to detriment of legitimate hauliers, a ious view of which was taken by the ice.