International'skandards for Buses Wanted T HE opinion of members of the
15th April 1955
Page 41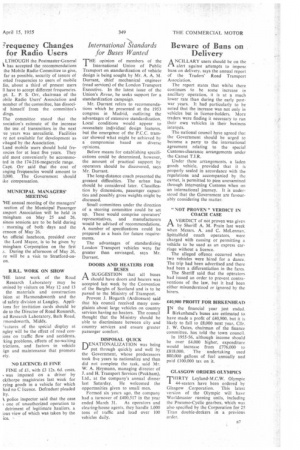 Page 41, 15th April 1955 —
International'skandards for Buses Wanted T HE opinion of members of the
Close
International Union of Public Transport on standardization of vehicle design is being sought by Mr. A. A. M. Durrant, chief mechanical engineer (road services) of the London Transport Executive. In the latest issue of the Union's Revue, he seeks support for a standardization campaign.
Mr. Durrant refers to recommendations which he presented at the 1953 congress in Madrid, outlining the advantages of extensive standardization, Local conditions would appear to necessitate individual design features, but the emergence of the P.C.C. tramcar showed what might be achieved by a compromise based on diverse opinions.
Before means for establishing specifications could be determined, however, the amount of practical support by operators should be discovered, says Mr. Durrant.
The long-distance coach presented the greatest difficulties. The urban bus should be considered later. Classification by dimensions, passenger capacities and possibly gross weights might be discussed, Small committees under the direction of a steering committee could be set up. These would comprise operators' representatives, and manufacturers would be advised of recommendations. A number of specifications could be prepared as a basis for future requirements.
The advantages of standardizing London Transport vehicles were far greater than envisaged, says Mr. Durrant.
DOORS AND HEATERS FOR BUSES .rt
A SUGGESTION that all buses
should have doors and heaters was accepted last week by the Convention of the Burghs of Scotland and is to be passed to the Ministry of Transport.
Provost J. Hogarth (Ardrossan) said that his council received many complaints about large vehicles on country services having no heaters. The council thought that the Ministry should be able to discriminate between city and country services and ensure greater passenger comfort.
DISPOSAL QUICK nENATIONALIZATION was being put through quickly and well by the Government, whose predecessors took five years to nationalize and then did not complete the task, said Mr. W. A. Heymann, managing director of J. and H. Transport Services (Peckham), Ltd., at the company's annual dinner last Saturday. He welcomed the opportunities given to small men. Formed six years ago, the company had a turnover of £400.517 in the year ended March 31. As operators and clearing-house agents, they handle 1,000 tons of traffic and load over 100 vehicles daily.