Men in the News
15th April 1955
Page 40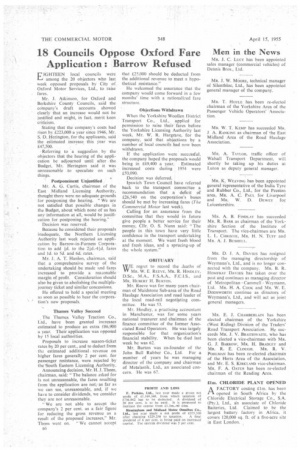 Page 40, 15th April 1955 —
Men in the News
Close
MR. J. C. LUCY has been appointed sales manager (commercial vehicles) of Dennis Bros., Ltd.
MR. J. W. MOORE, technical manager of Silientbloc, Ltd., has been appointed general manager of the company.
MR. T. HOYLE has been re-elected chairman of the Yorkshire Area of the Passenger Vehicle Operators' Association.
MR. W. T. KEMP has succeeded Ma. J A. RANK INE as chairman of the East Midland Area of the Road Haulage Association.
MR. A. TAYLOR, traffic officer of Walsall Transport Department, will shortly be taking up his duties at Luton as deputy general manager.
MR. K. WEAVING has been appointed general representative of the India Tyre and Rubber Co., Ltd., for the Preston area, MR. A. C. PAUL for Liverpool and MR. W. D. DEWEY for Leicestershire.
MR. A. B. FINDLAY has succeeded MR. R. BARR as chairman of the Yorkshire Section of the Institute of Transport. The vice-chairmen are MR. L. L. CHRISUE, MR. H. N. TUFF and MR. A. J. BusuELL.
Ma. D. J. A. DAVIES has resigned from the managing directorship of Weymann's, Ltd., and is no longer connected with the company. MR. B. R. HOMFRAY DAVIES has taken over the post and continues as managing director of Metropolitan Cammell Weyrnann, Ltd. MR. H. A. COOK and MR. W. E. Dopswowrii continue as directors of Weyrnann's, Ltd., and will act as joint general managers.
MR. E. J. CHAMBERLAIN has been elected chairman of the Yorkshire (West Riding) Division of the Traders' Road Transport Association. He succeeds MR. J. V. BRAITHWAITE, who has been elected a vice-chairman with MR. G. J. BARROW, MR. H. BRADLEY and MR. R. E. CLOUGH. MR. R. V. Pout.maN has been re-elected chairman of the Herts Area of the Association, and Mr. E. S. KIRKLAND vice-chairman. MR. F. A. OATES has been re-elected chairman of the Reading Area.
Dom CHLORIDE PLANT OPENED
A FACTORY costing £1m. has been 1-1. opened in South Africa by the Chloride Electrical Storage Co., S.A. (Pty.), Ltd., tht associate of Chloride Batteries, Ltd. Claimed to be the largest battery factory in Africa, it covers 120,000 sq. ft. of a five-acre site in East London.
Tags
People
:
E. J. CHAMBERLAIN
,
G. J. BARROW
,
W. D. DEWEY
,
W. T. KEMP
,
A. B. FINDLAY
,
L. L. CHRISUE
,
K. WEAVING
,
J. C. LUCY
,
J. V. BRAITHWAITE
,
A. TAYLOR
,
H. A. COOK
,
R. V. Pout
,
H. N. TUFF
,
R. E. CLOUGH
,
A. C. PAUL
,
J. A. DAVIES
,
B. R. HOMFRAY DAVIES
,
R. BARR
,
J. W. MOORE
,
H. BRADLEY
,
W. E. Dopswowrii
,
E. S. KIRKLAND
,
T. HOYLE
,
F. A. OATES