M.P.s Complain of Congestion
15th April 1955
Page 39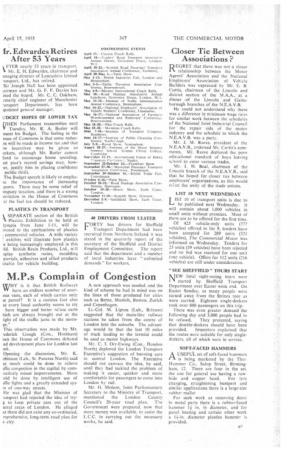 Page 39, 15th April 1955 —
M.P.s Complain of Congestion
Close
WilY is it that British Railways ha'e an endless number of enorous vans, each of which carries only Le parcel? It is a curious fact also at every local authority seems to try have bigger and better refuse carts hich are always brought out at the
:light of the traffic jams in the morn This observation was made by Mr. -ederick Gough (Con., Horsham) aen the House of Commons debated ad development plans for Lortdon last :ek.
Opening • the discussion, Mr. K. obinson (Lab., St. Pancras North) said at much could be done to relieve tffic congestion in the capital by cornratively minor improvements. More uld be done by intelligent use of tffic lights and a greatly extended sysTi of one-way streets.
He was glad that the Minister of -ansport had rejected the idea of tryg to keep private cars out of the ntral areas of London. He alleged at there did not exist any co-ordinated, mprehensive, long-term road plan for e city.
A new approach was needed, and the kind of scheme he had in mind was on the lines of those produced for cities such as Berne, Munich, Boston, Zurich and Copenhagen.
Lt.-Col. M. Lipton (Lab., Brixton) suggested that the main-line railway stations be taken from the centre of London into the suburbs. The advantage would be that the last 10 miles of track leading to the termini could be used as motor highways.
Mr. C. I. Orr-Ewing (Con., Hendon North) deplored the London Transport Executive's suggestion of banning cars in central London. The Executive should not canvass the idea, he said, until they had tackled the problem of making it easier, quicker and more comfortable for passengers to come into London by rail.
Mr. H. Molson, Joint Parliamentary Secretary to the Ministry of Transport, mentioned the London County Council's 20-year road plan. The Government were prepared, now that more money was available, to assist the L.C.C. in carrying out the necessary works, he said.