Driver's Damages Against Employer
15th April 1955
Page 38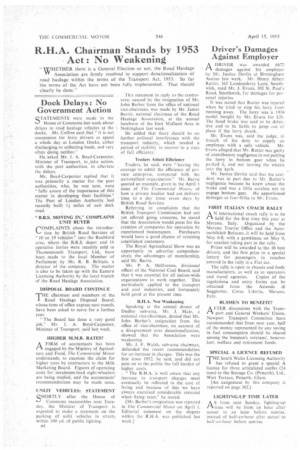 Page 38, 15th April 1955 —
Driver's Damages Against Employer
Close
1-'1 A DRIVER was awarded £672 damages against his employer by Mr. Justice Devlin at Birmingham Assizes last week. Mr. Henry Albert Rutter, 165 Londonderry Lane, Smethwick, sued Mr. I. Evans, 305 St. Paul's Road, Smethwick, for damages for personal injuries.
It was stated that Rutter was injured when he tried to stop his lorry from running away. The lorry was a 1934 model bought by Mr, Evans for £26. The hand brake was said to be defective and to be liable to jump out of place if the lorry shook.
Mr. Evans was, said the judge, in breach of his duty to supply an employee with a safe vehicle. Mr. Evans alleged that Mr. Rutter was guilty of contributory negligence in not putting the lorry in bottom gear when he parked it, and not turning the wheels into the kerb.
Mr. Justice Devlin said that the accident was in part due to Mr. Rutter's negligence because he knew about the brake and was a little careless not to engage bottom gear. He apportioned damages as four-fifths to Mr. Evans.
FIRST ITALIAN COACH RALLY
AN international coach rally is to be held for the first time this year at Merano, Italy. Organized by the Merano Tourist Office and the Automobilclub Bolzano, it will be held from May 6-8, with a gymkhana on May 9, for coaches taking part in the rally.
Prizes will be awarded to the 10 best drivers, and the first prize in a special lottery for passengers in coaches entered in the rally is a Fiat car.
The rally is open to chassis and body manufacturers, as well as to operators and travel agencies. Copies of the regulation i and entry forms can be obtained from the Azienda di Soggiorno, Corsa Liberia, Merano, Italy.
BUSMEN TO BENEFIT?
1-1, A 1-TER discussions with the Transport and General Workers' Union, Newport Transport Committee have recommended that from next year, half of the money represented by any saving in fuel consumption should be shared among the busmen's veterans', benevolent, welfare and retirement funds.
SPECIAL A LICENCE REFUSED
THE South Wales Licensing Authority has refused to grant a special A licence for three articulated outfits (24 tons) to the Storage Co. (Penarth), Ltd., West Terrace, Penarth, Glam.
[An assignment by this company is reported on page 362.1 LIGHTING-UP TIME LATER
AAS from next Sunday, lighting-up time will be from an hour after sunset to an hour before sunrise, instead of half-an-hour after sunset to half-an-hour before sunrise.