Out and Home.
15th April 1915
Page 12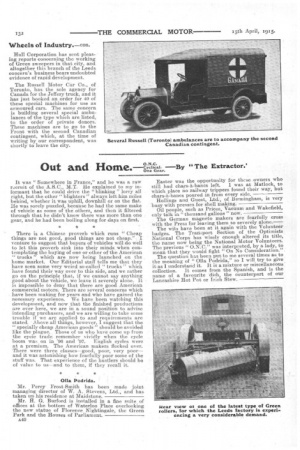 Page 12, 15th April 1915 —
Out and Home.
Close
O.N.C. Cyclical. One Gear.
By "The Extractor.'
It was "Somewhere in France," and he was a raw r,3cruit of the A.S.C. M.T. He explained to my informant that he coidel drive the " blinking " lorry all right, but the other " blighters" always left him miles behind, whether it was uphill, downhill or on the flat. lie was sorely puzzled, because he had the same make of vehicle as some of the others, and then it filtered through that he didn't know there was more than one gear, and he had been boiling along for days on first.
There is a Chinese proverb which runs "Cheap things are not good, good things are not cheap." I venture to suggest that buyers of vehicles will:do well to let this proverb sink into their minds when contemplating the buying of one or other of the American "trucks" which are now being launched on the . home market. Our Editorial staff tells me that they have seen some very weird so-called " trucks " which have found their way over to this side, and we rather go on the principle that, if we cannot say anything good about the vehicle, we leave it severely alone. It is impossible to deny that there are good. American commercial motors. There are several concerns which have been making for years and who have gained the necessary experience. We have been watching this development, and now that the finished productions are over here we are in a sound position to advise intending purchasers, and we are willing to take some trouble if we are applied, to and requirements are stated. Above all things, however, I suggest that the "specially cheap American goods" should be avoided like the plague. Those of DS who have come up from the cycle trade: remember vividly when the cycle boom wag on in '96 and '97. English cycles were at a premium. The American makers flocked over. There were three classes—good, poor, very poor— and it was astonishing how fearfully poor some of the stuff was. That experience of the hustlers should be of value to us—and to them, if they recall it.
011a Padrida.
Mr. Percy Frost-Smith has been made joint managing director of W. A. Stevens, Ltd., and has taken up his residence at Maidstone. Mr. H. G, Burford is installed in a fine suite of offices at the bottom of Waterloo Place overlooking the new statue of Florence Nightingale, the Green Park and the Houses of Parliament. A40 Easter was the opportunity for these -owners who still had chars-a-bancs left. 1 was at Matlack, to which place no railway trippers found their way, but chars-it-bancs poured in from every side. Hollings and Guest, Ltd., of Birmingham, is very busy with presses for shell Making. Oil people, such as Prices, Vacuum and Wakefield, only talk in "thousand gallons" now. The German magneto makers are fearfully cross with the Press for leaving them so severely alone. The wits have been at it again with the Volunteer badges. The Tranaport Section of the Optimists National Corps has wisely enough altered its title, the name now being the National Motor Volunteers. The previous " O.N.O." was interpreted, by a lady, to mean that they would fight 'On No Consideration." The question has been put to me several times as to the meaning of "Olin Podrida,"" so I will try to give it as I understand it, It is a mixture or miscellaneous ' collection. It comes from the Spanish, and is the name of a favourite 'dish, the counterpart of our Lancashire Hot Pot or Irish Stew.