OPINIONS
14th October 1938
Page 56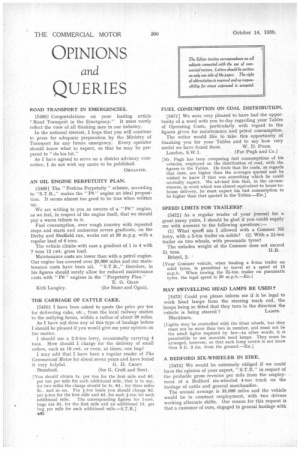 Page 57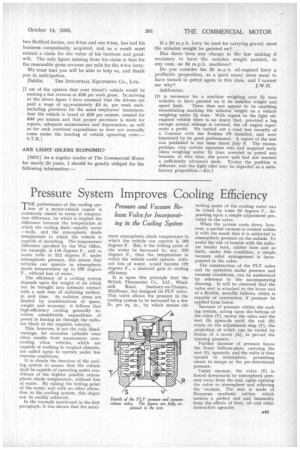 Page 56, 14th October 1938 —
OPINIONS
Close
and
QUERIES
ROAD TRANSPORT IN EMERGENCIES.
154681 Congratulations on your leading article " Road Transport in the Emergency." It must surely reflect the view of all thinking men in our industry.
In the national interest, I hope that you will continue to press for adequate preparation by the Ministry of Transport for any future emergency. Every operator should know what to expect, so that he may be prepared to "do his bit."
As I have agreed to serve on a district advisory committee, I do not wish my name to be published.
ORGANIZE.
AN OIL ENGINE PERPETUITY PLAN.
154691 The " Perkins Perpetuity" scheme, according to "S.T.R.," makes the " P6" engine an ideal proposition. It seems almost too good to be true when written p.
We are writing to you as owners of a " P6 " engine, ES we feel, in respect of the engine itself, that we should pay a warm tribute to it.
Fuel consumption, over rough Country with repeated stops and starts and numerous severe gradients, on the Derby and Sheffield run, works out at 20 m.p.g. with a regular load of 6 tons.
The vehicle climbs with ease a gradient of 1 in 4 with 7 tons 12 cwt. gross load.
Maintenance costs are lower than with a petrol engine. Our engine has covered over p,coo miles and our maintenance costs have been nil. " S.T.R.," therefore, in his figures should surely allow for reduced maintenance costs with "P6" engines in the "Perpetuity Plan."
E. G. OGAN
Kirk Langley. (for Stone and Ogan).
THE CARRIAGE OF CATTLE CAKE.
[5470] I have been asked to quote the price per ton for delivering cake, etc., from the local railway station to the outlying farms, within a radius of about 20 miles.
As I have nqt done any of this type of haulage before I should be pleased if you would give me your opinion on the matter.
I should use a 2-3-ton lorry, occasionally carrying 4 tons. How should I charge for the delivery of small orders, such as 10 cwt. or even, at times, one bag?
I may add that I have been a regular reader of The Commercial Motor for about seven years and have found
it very helpful. G. D. CROFT
Stamford. (for G. Croft and Son).
[You should obtain Is. per ton for the first mile and 6d. per ton per mile for each additional mile, that is to say, for two miles the charge should be Is, 6d., for three miles 2s., and so on. For 4-ton loads you should charge 9d. per 4-ton for the first mile and 4d. for each 4-ton for each additional mile. The corresponding figures for 1-cwt. bags are 3d. for the first mile and an additional ld. per bag per mile for each additional mile.—S.T.R.}
FUEL CONSUMPTION ON COAL DISTRIBUTION.
[5471] We were very pleased to have had the opportunity of a word with you to-day regarding your Tables of Operating Costs, particularly with regard to the figures given for maintenance and petrol consumption.
The writer would like to take this opportunity of thanking you for your Tables and to say how very useful we have found them. W. D. PUGH.
London, S.W.1. (For Pugh and Co.)
[Mr. Pugh has been comparing fuel consumptions of his vehicles, employed on the distribution of coal, with the figures in the Tables. He finds that his costs, as regards that item, are higher than the averages quoted and he wished to know if that was something which he could normally expect. We advised him that, in the circumstances, in work which was almost equivalent to house-tohouse delivery, he must expect his fuel consumption to be higher than that quoted in the Tables.—En.)
SPEED LIMITS FOR TRAILERS?
[5472] As a regular reader of your journal for a great many years, I should be glad if you could supply me with answers to the following questions:— (1) What speed am I allowed with a Commer N3 lorry, with a 5-ton trailer on solids? (2) With a 24-ton trailer on two wheels, with pneumatic tyres?
The unladen weight of the Commer does not exceed 24 tons. H.B. Bristol, 2.
[Your Commer vehicle, when hauling a 5-ton trailer on solid tyres, is permitted to travel at a speed of 12 m.p.h. When towing the 24-ton trailer on pneumatic tyres, the legal speed is 20 m.p.h.—ED.J MAY SWIVELLING HEAD LAMPS BE USED?
[5473] Could you please inform me if it be legal to work head lamps from the steering track rod, the lamps being so fitted that they turn in the direction the vehicle is being steered ? LAMPS. Blackburn.
[Lights may be controlled with the frOnt wheels, but they must not be more than two in number, and must not be the small lights required by law—in other words, it is permissible to use movable head lamps. They must be arranged, however, so that each lamp centre is not more than 3 ft. 3 ins, from the ground.—En.]
A BEDFORD SIX-WHEELER IN EIRE.
[5474] We would be extremely obliged if we could have the opinion of your expert, " S.T.R." in respect of the probable gross revenue per mile from the employment of a Bedford six-wheeled 4-ton truck on the haulage of cattle and general merchandise.
The annual average is 35,000 miles and the vehicle would be in constant employment, with two drivers working alternate shifts. Our reason for this request is that a customer of ours, engaged in general haulage with two Bedford lorries, one 3-ton and one 4-ton, has had his business compulsorily acquired, and as a result must submit a claim for the value of his business and goodwill. The only figure missing from his claim is that for the reasonable gross revenue per mile for the 4-ton lorry.
We trust that you will be able to help us, and thank you in anticipation.
Dublin. THE INDUSTRIAL EQUIPMENT CO., LTD.
[I am of the opinion that your friend's vehicle would be earning a fair revenue at £28 per week gross. In arriving at the above figure I have assumed that the drivers are paid a wage of approximately £3 5s. per week each, including provision for the usual employees' insurances, that the vehicle is taxed at £30 per annum, insured for £40 per annum and that proper provision is made for repairs, adequate maintenance and depreciation, as well as for such overhead expenditure as does not normally come under the heading of vehicle operating costs.— S.T.R.] ARE LIGHT OILERS ECONOMIC?
[5475] As a regular reader of The Commercial Motor for nearly 20 years, I should be greatly obliged for the following information :— If a 30 m.p.h. lorry be used for carrying gravel, must the unladen weight be painted on? \
Has there been any change in the law making it necessary to have the unladen weight painted, in any case, on 30 m.p.h. machines?
Do you consider the 30 m.p.h. oil-engined lorry a profitable proposition, as a good many users seem to have turned to petrol again in this class, and I cannot see why? J.W.H. Ashbourne.
/It is necessary for a machine weighing over 24 tons unladen to have painted on it its unladen weight and speed limit. There does not appear to be anything necessitating marking the unladen weight on a vehicle weighing under 24 tons. With regard to the light oilengined vehicle there is no doubt that, provided a big enough annual mileage is covered, the oil engine represents a profit. We carried out a road test recently of a C,ornmer with the Perkins Pti installed, and were impressed by its good performance. A report of the test was published in our issue dated July 8. The reason, perhaps, why certain operators who had acquired early oilers weighing under 24 tons, reverted to petrol was because, at that time, the power unit had not reached a sufficiently advanced state. To-day the position is different, and the light oiler may be regarded as a satisfactory proposition ..--En. I