Varying Views on Rates Stabilization
14th October 1938
Page 55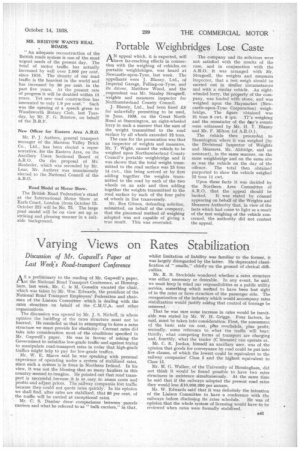 Page 55, 14th October 1938 —
Varying Views on Rates Stabilization
Close
Discussion of Mr. Gupwell's Paper at Last Week's Road-transport Conference
A'a preliminary to the reading of Mr. Gupwell's paper, at the National Road Transport Conference, at Birmingham, last week, Mr. C. le M. Gosselin vacated the chair, which was taken by Mr. Wm: Edwards, the president of the National Road Transport Employers' Federation and chair. man of the Liaison Committee which is dealing with the rates structure on behalf of the C.M.U.,A. and other organizations.
The discussion was opened by Mr. J. S. Nicholl, in whose opinion the building of the rates structure must not be hurried. He reminded us that in attempting to form a rates structure we must provide for elasticity. Current rates did take into consideration most of the conditions specified in Mr. Gupwell's paper. He was in favour of asking the Government to subsidize low-grade traffic and against trying to manipulate road-transport rates in order that high-grade traffics might help to pay for low-grade traffics.
Mr. W. E. Macve said he was speaking with personal experience of operating under a system of stabilized rates, since such a system is in force in Northern Ireland. In his view, it was not the blessing that so many hauliers in this country seemed to imagine. He pointed out that road transport is successful because it is so easy to assess costs and profits and adjust prices. The railway companies lost traffic because they could not quote rates quickly. In his opinion we shall find, after rates are stabilized, that 80 per cent. of the traffic will be carried at exceptional rates.
Mr. C: S. Dunbar drew comparisons between parcels carriers and what he referred to as "bulk carriers," in that,
whilst limitation of liability was familiar to the former, it was largely disregarded by the latter. He deprecated classification of " smalls," chiefly on the ground of clerical difficulties.
Mr. R. B. Stockdale wondered whether a rates structure was either. necessary or desirable. In any event, he said, we must keep in mind our responsibilities as a public utility service, something which seemed to have been lost sight of in the rates or fares structure of the passenger side. The reorganization of the industry which would accompany rates stabilization would justify asking that control of tonnage be removed.
That he was sure some increase in rates would be inevitable was stated by Mr. W. H. Griggs. Four factors, he said, must be taken into consideration: First, the assessment of the basic rate on cost, ptus overheads, plus profit; secondly, some reference to what the traffic will bear; thirdly, what competing forms of transport are charging and, fourthly, what the trader (C litensee) can operate at.
Mr. C. E. Jordan, himself an ancillary user, was of the opinion that goods for conveyance by road could be put into five classes, of which the lowest could be equivalent to the railway companies' Class 5 and the highest equivalent to Class 15.
Mr. M. G. Walker, of the University of Birmingham, did not think it would be found possible to have two rates structures in •existence simultaneously. At the same time he said that if the railways adopted the present road rates they would lose £10,000,000 per annum.
Mr. W. Edwards said that it was definitely the intention of the Liaison Committee to have a conference with the railways before disclosing its rates schedule. He was of opinion that the whole system of licensing would have to be reviewed when rates were formally stabilized.