Portable Weighbridges Lose Caste
14th October 1938
Page 55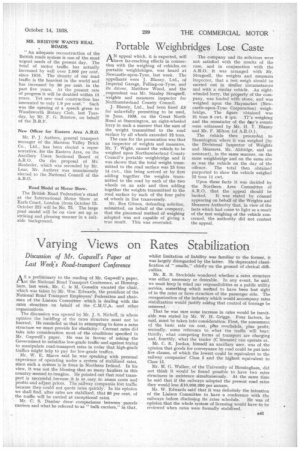 Page 55, 14th October 1938 —
Portable Weighbridges Lose Caste
Close
AN appeal which, it is expected, will .have far-reaching effects in connection with the weighing of vehicles on portable weighbridges, was heard at Newcastle-upon-Tyne, last week. The appellants were J. Blaney, Ltd., of Imperial Garage, Felling-on-Tyne, and its driver, Matthew Wood, and the respondent was Mr. Stanley Strugnell, weights and measures inspector for Northumberland County Council.
J. Blaney, Ltd., had been fined £5 for unlawfully permitting to be used, in June, 1938, on the Great North Road at Sta.nnington, an eight-wheeled lorry in such a manner that the sum of the weight transmitted to the road surface by all wheels exceeded 22 tons.
The case for the prosecution was that an inspector of weights and measures, Mr. T. Wight, caused the vehicle to be weighed upon Northumberland County Council's portable weighbridge and it was shown that the total weight transmitted to the road surface was 23 tons 14 cwt., this being arrived at by first adding together the weights transmitted to the road by each of the two wheels on an axle and then adding together the weights transmitted to the road surface by each of the four pairs of wheels in line transversely.
Mr. Rex Gibson, defending solicitor, submitted, on behalf of the company, that the piecemeal method of weighing adopted was not capable of giving a true result. This was overruled. The company and its solicitors were not satisfied with the results of the case, and in conjunction with the A.R.O. it was arranged with Mr. Strugnell, the weights and measures inspector, that a test weigh should be carried out in similar circumstances and with a similar vehicle. An eightwheeled lorry, the property of the company, was loaded with stone, and was weighed upon the Haymarket (Newcastle-upon-Tyne Corporation) weighbridge. The figure obtained was 21 tons 8 cwt. 8 qrs. TVs weighing and the remainder of the day's events were witnessed by Mr. H. T. Blaney and Mr. F. Milton (of A.R.O.).
The Vehicle then proceeded to Sta,nnington where it was weighed (by the Divisional Inspector of Weights and Measures, Mr. Aldridge, and an assistant), in the same manner, on the same weighbridge and on the same site as was the vehicle on the day of the offence. The total then obtained purported to show the vehicle weighed 22 tons 11 cwt.
Upon these facts it was decided by the Northern Area Committee of A.R.O. that the appeal should be backed. It was stated by counsel appearing on behalf of the Weights and Measures Authority that, in view of the facts which had come to light as a result of the test weighing of the vehicle concerned, the authority did not contest the appeal.