Solid Fuel Flaring Up
14th October 1938
Page 48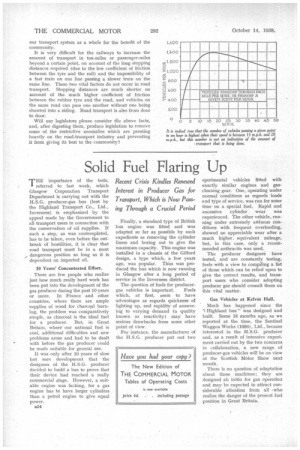 Page 48, 14th October 1938 —
Solid Fuel Flaring Up
Close
THE importance of the tests, referred to last week, which Glasgow Corporation Transport Department is carrying out with the H.S.G. producer-gas bus (lent by the Highland Transport Co., Ltd., Inverness) is emphasized by the appeal made by the Government to all transport users in connection with the conservation of oil supplies. If such a step, as was contemplated, has to be taken, even before the outbreak of hostilities, it is clear that road transport must be in a most dangerous position so long as it is dependent on imported oil.
10 Years' Concentrated Effort.
There are few people who realize just how much really hard work has been put into the development of the gas producer during the past 10 years or more. In France and other countries, where there are ample supplies of wood for charcoal burning, the problem was comparatively simple, as charcoal is the ideal fuel for a producer. But, in Great Britain. where our national fuel is coal, additional difficulties and new problems arose and had to be dealt with before the gas producer could be made suitable for general use.
It was only after 10 years of slow but sure development that the designers of the H.S.G. producer decided to build a bus to prove that their device had reached a really commercial stage. However, a suitable engine was lacking, for a gas engine has to have larger cylinders than a petrol engine to give equal power. Finally, a standard type of British bus engine was fitted and was adapted so far as possible by such expedients as removing the cylinder liners and boring out to give the maximum capacity. This engine was installed in a chassis of the Gilford design, a type which, a few years ago, was popular. Thus was produced the bus which is now running in Glasgow after a long period of service in the Inverness district.
The question of fuels for producer gas vehicles is important. Fuels which, at first, seem to have advantages as regards quickness of lighting up, and rapidity of answering to varying demand (a quality known as reactivity) may have serious drawbacks from some other point of view.
For instance, the manufacturer of the H.S.G. producer put out two eperimental vehicles fitted with exactly similar engines and gascleaning gear. One, operating under normal conditions as regards loads and type of service, was run for some time on a special fuel. Rapid and excessive cylinder wear was experienced. The other vehicle, running under extremely aikluous conditions with frequent overloading, showed no appreciable wear after a much higher. equivalent mileage, but, in this case, only a recommended anthracite was used.
The producer designers have tested, and are constantly testing, fuels with a view to compiling a list of those which can be relied upon to give the correct results, and transport users who consider adopting producer gas should consult them on this vital matter.
Gas Vehicles at Kelvin Hall.
Much has happened since the 't Highland bus" was designed and built. Some 18 months ago, as we reported at the time, the Sentinel Waggon Works (1936), Ltd., became interested in the H.S.G. producer and, as a result of intensive experiment carried out by the two concerns in collaboration, a new range of producer-gas vehicles will be on view at the Scottish Motor Show next month.
There is no question of adaptation about these machines; they are designed ab initio for gas operation and may be expected to attract considerable attention from all .who realize the danger of the present fuel position in Great Britain.