A Railway Expert's View on Road Transport
14th October 1938
Page 40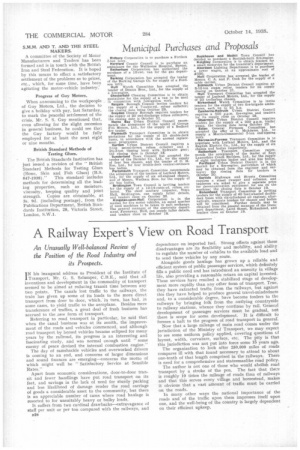 Page 40, 14th October 1938 —
A Railway Expert's View on Road Transport
Close
An Unusually Well-balanced Review of the Position of the Road Industry and its Prospects.
IN his inaugural address as President of the Institute cf !Transport, Mr. G. S. Szlumper, C.B.E., said that all inventions and development in the commodity of transport seemed. to be aimed at reducing transit time between any two points. The canals lost traffic to the railways, the train has given up some of its loads to the more direct transport from door to door, which, in turn, has had, in some cases, to yield traffic to the aeroplane. Besides mere transference of traffics, a great deal of fresh business has accrued to the new form of transport.
Referring to road transport in particular, he said that when the canal business was at its zenith, the improvement of the roads and vehicles commenced, and although road transport by horsed vehicles became eclipsed for many years by the railroad, its progress is an interesting and fascinating study, and was normal enough until " some enemy of peace devised the internal combustion engine."
The day of ramshackle vehicles and overworked drivers is coming to an end, and concerns of larger dimensions and sound finances are emerging—concerns the motto of which might well be " Satisfactory Service at Sensible Rates."
Apart from economic considerations, door-to-door transit and fewer handlings have put road transport on its feet, and savings in the lack of need for sturdy packing and less likelihood of damage render the road carriage of goods a considerable asset to the community, but there is an appreciable number of cases where road haulage is resorted to for unsuitably heavy or bulky loads, It suffers from two cardinal drawbacks—extravagance of staff per unit or per ton compared with the railways, and B26 dependence on imported fuel. Strong offsets against these disadvantages are its flexibility and mobility, and ability to regulate the number of vehicles to the available load and to send those vehicles by any route. Alongside goods haulage has grown up a reliable and efficient system of public passenger services, which definitely fills a public need and has introduced an amenity in village life, also providing a reasonable return on capital invested. These services have reached a stabilized stage of development more rapidly than any other form of transport. True, they have extracted traffic from the railways, but against this they have helped to produce general travel-mindedness and, to a considerable degree, have become feeders to the railways by bringing folk from the outlying countryside to railway stations, whence they continue by rail. General development of passenger services must be gradual, but there is scope for some development. It is difficult to foresee a halt to the progress of road transport in general: Now that a large mileage of main road comes under the jurisdiction of the Ministry of Transport, we may expect to see some uniform policy applied, covering questions cf layout, width, curvature, surface, etc. The pity is that this jurisdiction was not put into force some 15 years ago. The organization to look after 250,000 miles of roads compares ill with that found necessary to attend to about one-tenth of that length comprised in the railways. There is need for a comprehensive and statesmanlike road policy.
The author is not one of those who would abolish road transport by a stroke of the pen. The fact that the:e is roughly 10 tithes the mileage of roads than of railways and that this serves every village and homestead, makes it obvious that a vast amount of traffic must be carried on the roads.
In many other ways the national importance of the roads and of the traffic upon them impresses itself upon one, and the well-being of the country is largely dependent on their efficient upkeep.